Harry Bignell, Global External Affairs Officer
Harry is a policy and campaigns professional working across our advocacy work in country, including the donkey skin trade and Action for Animal Health.
Qualifications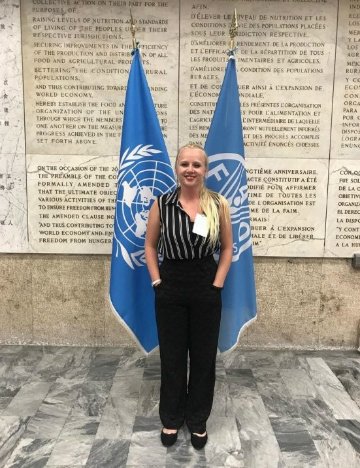 Masters in Development Studies from SOAS University
BA Hons in Comparative Literary Studies from Warwick University
Certificate in Navigating the Tripartite Zoonoses Guide (TZG): A Training for Advocates and Implementers
Certificate in Ecology, Ecosystem Dynamics and Conservation
Certificate in Strengthening Stakeholder Engagement for the Implementation and Review of the 2030 Agenda
Conferences
2020
World One Health Conference
High Level Virtual Special Event on Food Security and Nutrition (virtual)
United Nations General Assembly (virtual)
Africa Animal Welfare Conference (virtual)
United Nations High Level Political Forum (virtual)
2019
Committee on World Food Security 46 at FAO headquarters in Rome
All Africa Conference on Animal Agriculture in Ghana
Publications
Hobbies
Both in and outside of work I love to write. I have published a children's book - illustrated by my exceptionally talented mother - and am also working on a longer book when I can find the time to apply myself! I am learning Spanish in my spare time and, when not in lockdown, I am a passionate dodgeball player, competing at national and international level for England Lions Dodgeball Team.
Most memorable work moment
In 2019 I was fortunate enough to visit our country programme in Kenya for meetings on the donkey skin trade campaign that I was working on. After two days of meetings with the campaign team in country and other key partners in country, we travelled to Naivasha in Nakuru County to meet community members who had had their livelihoods destroyed by the donkey skin trade. The trade meant that in some cases people sold their animals for an immediate cash injection for schools fees or other necessities but were then unable to purchase a replacement due to rocketing prices. These high prices were also fuelling theft of donkeys across regions with proximity to slaughterhouses. The people we met and the stories they told about waking up to find their donkeys stolen or sometimes skinned and left nearby have stayed with me, fuelling my passion for this campaign. Whilst these stories were really heart rending, seeing the connection my colleagues in Kenya have with these communities and their joint passion for the work was incredibly inspiring. Their drive and commitment has resulted in a ban on the slaughter in Kenya which is a huge milestone.
Best part of your job
I'm sure my answer here will reflect many of my colleagues but the best part of my job is getting to work so closely with colleagues in Kenya, Pakistan, Senegal, Ethiopia, India and Nicaragua. Their knowledge of the issues and of the communities we work with is boundless and the confidence they instil in the moments we get to work alongside each other makes these collaborative moments a real joy, and usually a resounding success! We recently organised a side event at the UN High Level Political Forum where we utilised the strong government relationships of our team in Senegal, our wonderfully dynamic Laura Kavata from Brooke East Africa to speak on community development and the donkey skin trade, and our partner in Afghanistan, DCA. The launch was incredibly successful and a real testament to what we can do when we collaborate.
How did you get your job?
I have wanted to work in the not-for-profit sector for years, working for various charities across my time and university and beyond. After completing my MSc, I worked in both the fundraising and partnerships teams at Brooke before moving into global external affairs where my passion for creating sustainable change through policy has been given wings!