Our Strategy
Creating a world where working animals have a life worth living.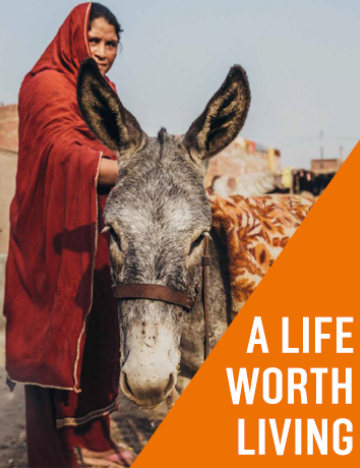 We're delighted to present to you Brooke's new 2025 strategy – 'A Life Worth Living'. This strategy builds on the tradition, heritage and outstanding work that Brooke has achieved since 1934. But it also marks a bold, new level of ambition for the future of working horses, donkeys and mules and those who depend on them. 
All too often these animals are forgotten – their suffering neither seen nor heard. This must change. We must recognise the immense and critical part they play in the sustainable development of some  of the world's poorest countries. 
Beyond freedom from suffering
We have evolved our vision as we want more for working equids than just the eradication of suffering. 
This will be extremely difficult, but we owe it to all working horses, donkeys and mules.
We can't do it without our amazing supporters. We will be the home for anyone who cares about animals and people.
Three goals
Over the next few years, we want to reach and improve the lives of more animals and their communities than ever before – and we're focused on three goals that we believe can get us there. 
Transforming equine welfare in communities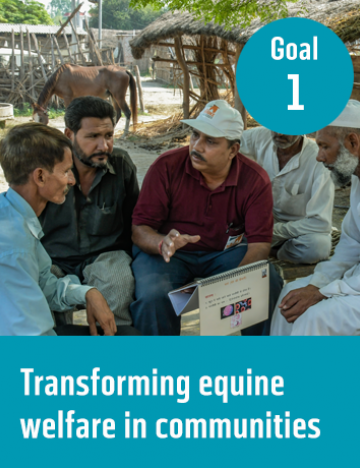 Supporting equine-owning communities to thrive and become more resilient.
We recognise the huge interdependence of equids and the communities that depend on them. Working with, and in, over 7,000 communities worldwide, our holistic 'One Welfare' approach helps us to overcome the greatest barriers and root causes of poor equine welfare and deliver lasting change. 
Some of the ways we will achieve this include:
Supporting the set up of equine welfare groups.
Training in compassionate handling, first aid and hoof care.
Building shelters and water schemes.
Supporting effective community emergency preparedness and disaster response.
Influencing local animal health and welfare laws.
For more details please download the strategy. 
Increasing the visibility and inclusion of working equids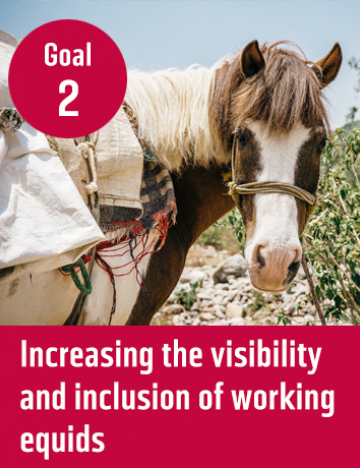 Making sure the needs of equids are covered in policy and practices at all levels.
We're having a direct and sustainable positive impact on the lives of about 1.3 million equids through our community development programmes, but many more benefit from the work we do to integrate working animal welfare into global, regional, national and local priorities and policies.
Our plans include:
Read more on our plans in this area in our strategy document.
Strengthening sustainable animal health systems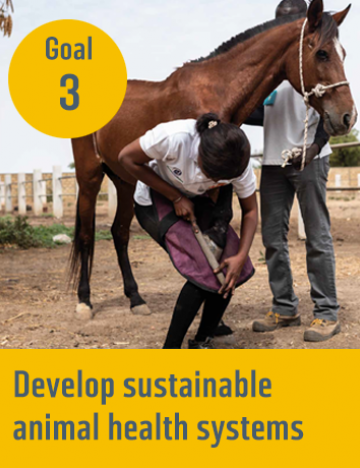 Meeting both the immediate and future needs of working horses, donkeys and mules.
Strong animal health systems are critical to the health and welfare of animals. They also play a critical part in reducing the likelihood of disease transmission between people and animals in a world where this risk – and the risk of antimicrobial resistance – is ever increasing.
Some of these immediate responses include:
Working to develop appropriate animal health systems at every level – and with an ultimate vision of Universal Health Coverage. 
Scaling up and integrating good practice into bodies responsible for animal health systems (e.g. vets curricula).
Building on our flagship animal health systems and farriery mentoring programmes.
Stepping in to provide emergency medical treatment where no services exist to reduce suffering.