India at a glance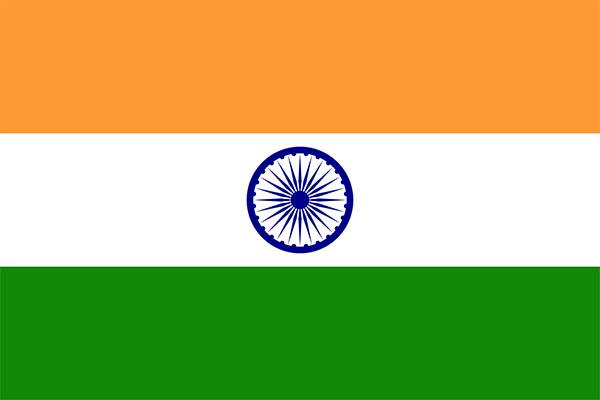 Population: 1.3 billion
Percentage of people living below the international poverty line: 21.3%
Number of working equines: 1.1 million
Sources: World Bank 2015, World Bank 2010, Government of India 2012
On this page
Background
India is the world's second-most populous country with over 1.3 billion people, many of whom rely on an estimated 1.1 million working horses, donkeys and mules to support them work the land. Over a quarter of a million people survive on earnings as low as 27-30 Indian rupees (around 30p) a day.
Each working equine animal supports an average of six people, but many families who depend on working horses, donkeys and mules for a living face real problems rearing them. Animals often become sick due to a lack of proper food and clean water - their owners simply can't afford to provide it - and difficult terrain and climate create a tough environment. So while these working animals play a major part in agriculture and transport, financial pressures often force owners to overwork them.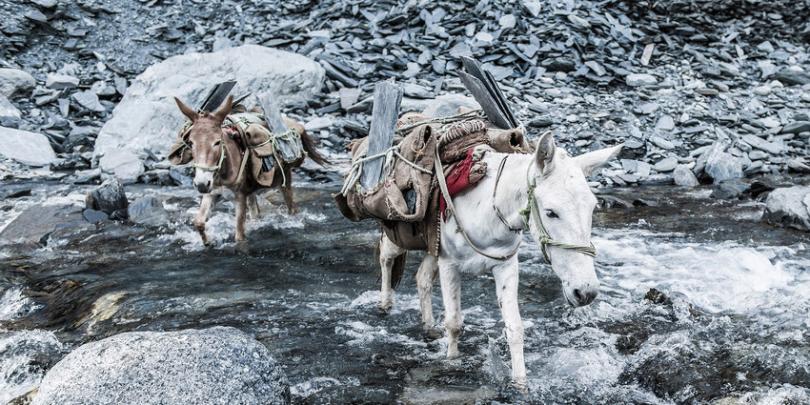 What's happening now
Vets with the knowledge and experience to treat working horses, donkeys and mules are hard to find. Brooke India is playing a vital role in improving the quality of veterinary hospitals, dispensaries and mobile treatment facilities which - until recently - were under resourced and ill-equipped.
Brooke India's programme has grown in scope and ambition, not just providing treatments through mobile units, but moving to a more sustainable approach of building partnerships with civil society and various government bodies to bring about long-term change.
Programmes are implemented both directly by Brooke staff and through strategic partnerships with 23 local non-governmental organisations. 
Community engagement
Working together with equine owners and their families in the community leads to sustainable changes in knowledge, attitudes and behaviour.
More information on community engagement.
Good feed
We work with owners to help them understand the benefit of good nutrition and how to feed their animals correctly. Equine welfare associations are helping them by making balanced feed available at a reduced rate. Owners are also put in touch with government veterinary hospitals where they can obtain supplies of mineral additives to enrich the feed they buy.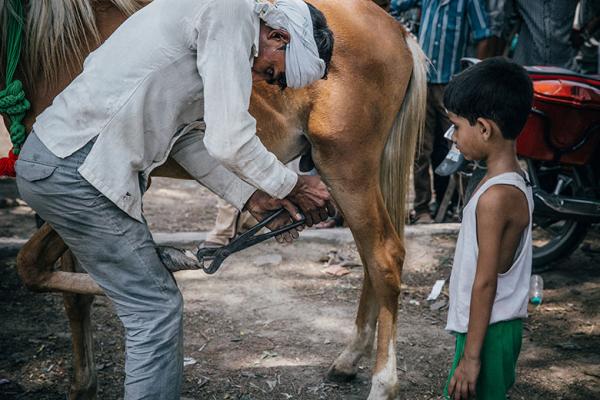 The right equipment
Owners are trained in good hoof care and farriery practice, ensuring their animals have good quality, well-fitting shoes. The frequency of wounds caused by badly fitting harnesses has been reduced by good quality equipment, and owners are given advice on how to keep it in the best condition. Family members – usually female – are encouraged to use their skills to make items such as harnesses, halters and reins.
Hobbles (devices which limit the animal's movement by tethering one or more legs) are an unavoidable reality in many areas but owners are trained in using them correctly. They are also encouraged to use softer material (most owners no longer use nylon rope), and to change which legs they hobble at frequent intervals.
Cart makers are training owners to regularly check their carts are properly balanced – an easy task which can save animals from wounds, injuries and sore muscles.
Advocacy
Brooke seeks to bridge the gap between human development and animal welfare by highlighting the benefits of improved working equine welfare. Examples include:
lobbying decision makers at national and state level to include equines in livestock policies and veterinary curriculums
disseminating evidence, such as the Voices for Women report (PDF 7.5Mb)  at all forums in government and with other organisations that have the ability to influence working equine welfare. 
Service provision
In the long term, we aim to build the abilities and resources of local service providers through workshops and training sessions so they can adopt good equine welfare practices by strengthening community participation. 
Equine fairs
One important aspect of our work in India is addressing welfare issues in over 60 equine fairs. Interventions at fairs raise awareness of urgent welfare issues by working with private fair organisers, local administrators and local service providers. The dedicated Brooke equine fair team provides emergency treatment and hands-on training to government veterinary officers and para-veterinary staff members.
Read more about our work at India's equine fairs. 
Brick kilns
We tackle the harsh conditions facing the 380,000 animals working in India's brick kilns. Despite being the second largest brick producer in the world, the transportation process is largely manual, with little or no technology. Extreme temperatures, lack of shade, difficult terrain and overloading can cause suffering for horses, donkeys and mules. Disease and injuries are common.
Our brick kiln strategy ensures that water, shelter, first aid kits and levelled road surfaces are available at all brick kiln sites. We also work to increase the availability of local health practitioners, farriers, hair clippers, cart repairing, connecting them with equine owners.
Equine working patterns in India's brick kilns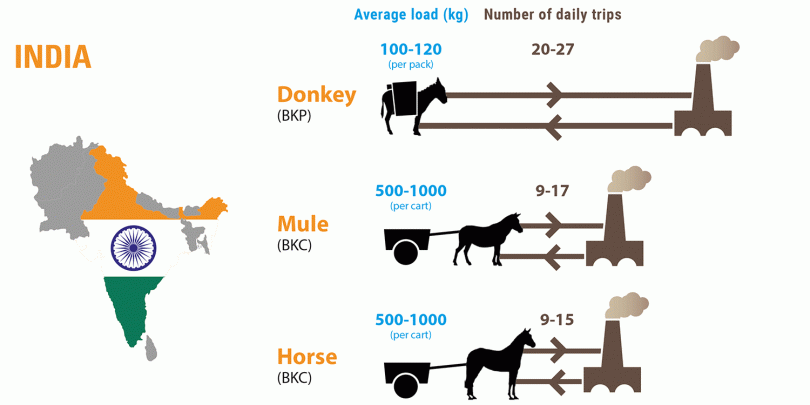 From the field
Research
We research the problems facing working equines and their owners. This includes issues such as how owners, users and service providers work with the animals, as well as topics for discussion with policy makers and governments.
More on our research
The Brooke India programme includes an active research team, working on topics relating to service providers and community engagement, equine clinical issues and policy-related topics.  
Brooke India partnerships