Animal Handling
Handling describes how humans work with, respond to, and interact with animals within their surroundings. It can have profound and lasting effects on both animals and their handlers, and can mean the difference between good and poor animal welfare.
Why is handling important?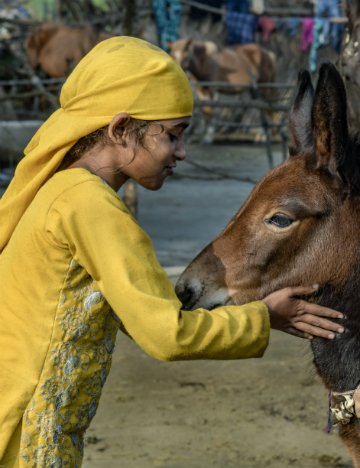 For most animals, handling is essential for their management and healthcare. 
For working animals, handling is a huge part of their lives. These animals work and live alongside people, meaning that handling is one of the most frequent events they experience.
If handling is compassionate it can be an enjoyable experience for animals. In fact, handling can be a way to increase the number of positive experiences that an animal has across its lifetime.
An equine vet is one of the most risky professions
This is equally true for the people working alongside the animals. Working with animals can be extremely dangerous, and in the UK being an equine vet is one of the most risky professions, with a higher rate of accidents than firefighters or prison workers (British Equine Veterinary Association, 2018). Yet many will know the joy it feels to have positive interactions with animals, and research has shown multiple beneficial effects of human-animal interactions (Applied Animal Behaviour Science, 2006).
Brooke's approach to animal handling
Brooke has long been committed to undertaking and promoting welfare-friendly animal handling practices and finding new ways to achieve this, given the constraints and realities in the field. We address the challenges we face through:
1. Educating animal health practitioners
We educate animal health practitioners via our mentoring work with vets, paravets, and farriers; and through providing trainings and workshops to trainee healthcare providers.  
2. Integrating handling into systems and institutions
Handling is integrated into the World Organisation for Animal Health (OIE) Terrestrial Code (Chapter 7.12, on the Welfare of Working Equids), which all member countries must implement. We provide training to help countries implement these codes, and also work to integrate handling into the curriculums of training institutions and healthcare education for the new generation of animal healthcare providers.
3. Working with communities
We work with communities to find solutions to their challenges, such as making rope headcollars, using welfare-friendly ramps at equine fairs, and running community training sessions.
4. Leading by example
Compassionate handling is integral to our culture at Brooke and we invest time and money into training all Brooke staff and partners in handling, committing to continual improvement.
This work has meant that we have consistently seen successful improvements. While we know that through this current approach we can improve the practical handling skills of many people who own and work with equines, having a positive impact on many animals across the world, it is vital that we fully address the root cause of the challenges that working equines and their owners are experiencing.
From our experience, the root causes are wide and varied. In many cases, there is a lack of knowledge or understanding, which is quite effectively tackled with group training. Other times, the root causes are much more complex and are determined on an individual level. The more we learn about this vital area of work, the more we see ways to make further and long lasting improvements.
The challenges we face
The handling challenges we see internationally are wide ranging and extensive. They include extreme use of force and punishment, animals displaying hypersensitive behaviours (extreme responses to their environment), and animals that cannot be approached or handled at all.
Causes of these behaviours include:
Poor animal management
The basic daily needs of the animals are not being met. For example, horses are kept tethered in isolation for the majority of their lives, and may even be hobbled during work. This leaves them unable to exercise movement and normal behaviours.
Harmful working methods
Outdated methods, such as punishment techniques of beating and food/water restriction, may be used, and animals may work and be exposed to harmful methods from a young age.
Lack of understanding about animal training
Animals are not sufficiently prepared for the things they will experience in their working lives. During veterinary treatment, for example, animals may not know how to act (such as lifting their leg when asked, or standing still for an eye exam).
Owners believing negative behaviours are normal
Some owners also actively want their animals to act in this way. They believe challenging behaviours indicate their animal is strong; or if their animal is difficult to handle, nobody else will borrow/touch/steal them.
Limitations of healthcare professionals
There is a limit on the ability of healthcare professionals to modify the behaviour of animals who are experiencing a poor mental state because their basic needs are not being met. However skilled a person is in handling, they will never be able to overcome these challenges in the short space of time offered within a veterinary consultation.
How does handling relate to welfare?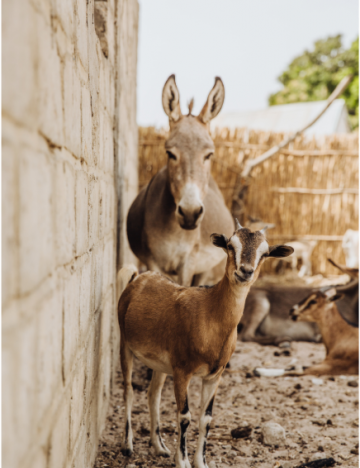 Suffering as a result of poor handling can occur daily, and over time can cause long-term mental and physical damage to an animal, particularly working animals that experience high levels of human interaction.
Physical impact may be seen in wounds or poor physical health.
Psychological impact is seen in fear, persistent anxiety, poor learning, and in the reactions of animals to human contact, which can lead to difficulties for humans when working with the animal.
Compassionate handling can have huge positive impacts on an animal's welfare, and developing good human-animal interactions focuses on mental welfare of equids, as well as their physical health. This goes beyond the alleviation of suffering and recognises the importance of animals and people having positive experiences, which are essential for a good life.
Handling should be an act of kindness and compassion
To strike an effective balance between alleviating the immediate suffering of animals and working in a sustainable manner that prevents the issues we face from arising in future, we need to work on new strategies to tackle them. This is what Brooke's ongoing Compassionate Handling Project aims to do. By the end of the project, we will better understand the impact of this aspect of our work, what works, what doesn't work, why, and our key priorities for the future.
Compassionate handling guiding principles
Animals are sentient beings with their own motivations and agendas, and when working with them we must establish a partnership, trust, and a common language. Our handling methods are based on the application of current science, but putting theory into practice is difficult – particularly in the challenging contexts that Brooke works in. There is not one 'right' way of doing things that works in all situations. Instead, we must apply our experience and knowledge, guided by our principles.
Our Compassionate Handling for Life Guiding Principles help anyone who handles animals or who works with animal handlers - such as vets, mentors and animal healthcare providers - make decisions in these situations. This practical and succinct approach explains clearly how and why handling should always be #AnActOfKindness and compassion for all animals.
Download the complete guide:
Equine, Livestock and Pet Facts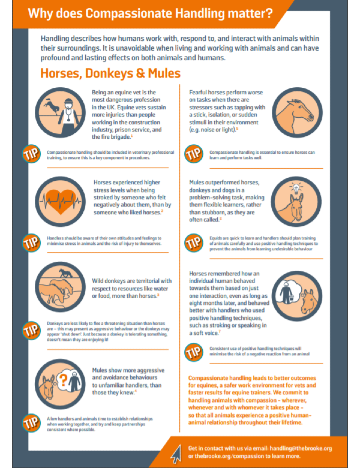 We have put together evidence-based fast facts and useful tips about handling animals, which you can download below.
The factsheets are a good introduction to how important handling is, and the impact it can have on the lives of animals, put in easy-to-digest facts and tips. They're great for learning about animals that you might not have worked with before, or to get some new information about those that you do!
They also summarise some of the scientific research in this area, in a simple way, offering an evidence-based approach to working with, and handling animals.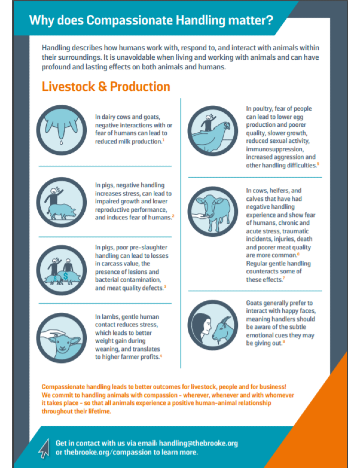 How would you use the factsheets?
As a learning aid or tool, when working with other professionals
Sharing knowledge with those in the field
Easy-to-digest education for kids
As a fun way to get others talking about a topic that can have real impact on the lives of animals
To gain understanding of some of the scientific evidence about handling
Influenced by our experience of working with and caring for animals and through research contributed by the many scientific disciplines that have an interest in animal welfare, our understanding of animals and their welfare is ever evolving. Thus, our work here at Brooke will continue evolving too.
Compassionate handling in Action
Help us reach more working animals