Dr Javed Iqbal Gondal, Programme Manager
Based in Lahore, the headquarters of Brooke Pakistan, Javed assists the CEO in designing and delivering a strategic and cost-effective programme that positively impacts working equine welfare. He provides vision and strategic leadership to our programme in Pakistan programme, and plans and implements for increasing its scale and impact. Javed provides a clear representation of the programme goals and inspiration of increased profile and funding, along with effective use of programme field data for learning and development.
Expertise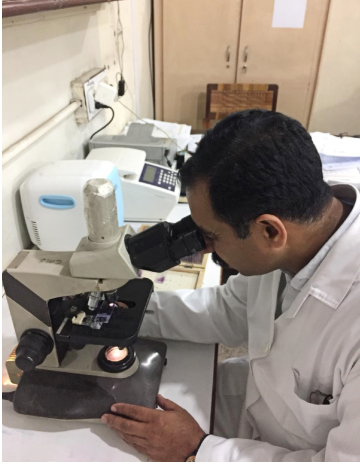 Strong veterinary background

Community development

Programme and project management

Human behaviour change and TFAL (training and facilitating adult learning) training

Advocacy and research
Qualifications
Doctor of Veterinary Medicine
Master of Science in Molecular Biology
Executive Master of Business and Administration (EMBA) in Marketing
Received the best facilitator award in the advanced TFAL course among all international participants
Publications
Gondal, J. I. (2019). An approach to creating sustainable improvements in animal welfare using Brooke's Animal Health Mentoring Framework to enhance animal health practitioner competency. Abstract (oral presentation) accepted by the Commonwealth Veterinary Association (CVA) Conference in Bangladore, India.
Gondal, J. I. (2015). Tetanus Treatment and Prevention in Rajkot Community, Pakistan. Research paper accepted at the World Equine Veterinary Association (WEVA) - International Congress in Mexico.
Gondal, J. I. & Ahmad, H. (2010). Zoonotic and infectious diseases: dealing with disease outbreaks: a report on surra (trypanosomiasis) in Gujranwala, Pakistan. Conference paper at the Sixth International Colloquium on Working Equids in New Delhi, India.
Surra is a highly fatal disease affecting equines. A project was conducted to study the prevalence, clinical signs, treatment response, and necropsy findings in equines suffering from surra in Gujranwala, northeast Pakistan. My article, titled "Brooke veterinary surgeon dedicated to fighting surra in Gujranwala", was published in the UK Veterinary Times.
Fieldwork contributions reflected in Brooke's Working Equid Veterinary Manual.
6 case studies published in a veterinary newsletter.
Two times my research article published in Pakistan veterinary journals.
Some of my work-related activities added in Vet Wiki by Brooke UK.
Hobbies
I enjoy watching cricket.
Most memorable work moment
Although I was proud to receive performance awards from Brooke Pakistan, my most memorable moment was when I received two international awards. I received the best vet award from Brooke UK in 2004. Petra, Brooke's then-CEO, had some lovely words to say.
As part of Brooke's 70th anniversary commemoration, this special award is made to Dr. Javed Iqbal Gondal for outstanding personal achievement and in recognition of the dedication and professionalism of the Brooke Team in Pakistan.
I also received a second values outstanding performance recognition award (VOPRA), and the award-winning statement from Petra was:
"You were nominated for your outstanding contribution to global animal health team. You have been an exemplary leader during a time of sustainable change. You have been a champion of a more sustainable approach with positive results which can be seen in the field every day. You are resourceful, you share new ideas and you help other people to succeed." 
Best part of your job
I prefer to lead by example and with more hands-on and practical work.
I prefer to lead by example and with more hands-on and practical work. The focus of my work is sustainable improvement in the welfare of working equids by strengthening the self-reliance and problem-solving capacity of animal owners/users, working through and strengthening existing local service providers, and making a positive change in the behaviour of marginalised communities to make them thrive.
How did you get your job?
I was working in the livestock and poultry sector before joining Brooke. I applied to Brooke via a newspaper advertisement. The basic qualification was a DVM degree with good grades.