Dr Mactar Seck, Programme Manager
Mactar is a veterinarian based in Dakar (our West Africa office). He is the country programme manager and research coordinator, and oversees the animal health, community engagement and advocacy teams.
Expertise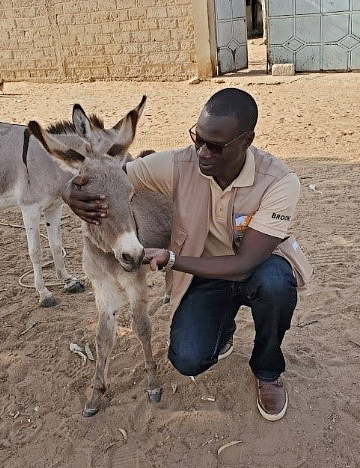 Animal welfare

Dairy cow nutrition
Qualifications
Veterinary surgeon (University of Dakar, Senegal)

Master of Science in Animal Sciences (University of Laval, Canada)
Publications
Hobbies
I enjoy sport and music.
Most memorable work moment
My most memorable moment was when I received the Animal Welfare award from the World Veterinary Association in Barcelona in 2018.
Best part of your job
The best part is seeing how the owners' change of attitudes towards animals and the improvement of service providers' knowledge and skills is positively impacting equine welfare.
How did you get your job?
I applied after seeing an advertisement sent by the Veterinary College. At this time I didn't know anything about Brooke, but the job description I read piqued my interest. Indeed, I was familiar with the animal welfare topic as I worked a few years in the dairy sector in Canada, where the welfare standards are generalised. I started as Animal Welfare Officer for 3 years, during which I enjoyed spending time in the field implementing our service provision strategy. In 2016, I was promoted to Programme Manager, after an open selection process. The work and the responsibilities are different, but the passion in favour of alleviating equine suffering is stronger than ever.