Our history
From humble beginnings as a hospital for ex-warhorses in 1934, Brooke is now the leading global welfare charity for working horses, donkeys and mules.
How we started
The story begins with Dorothy Brooke and her husband Geoffrey relocating to Cairo in October 1930, as he had recently been appointed to command the British Cavalry Brigade in Egypt. 
Horses already featured heavily in the Brookes' lives - Geoffrey was the author of several books on horsemanship, and Dorothy had been a devotee of all things equine since childhood.   
Before embarking on their new life in Cairo, Dorothy had become aware of the fate of former war horses that were now languishing in poor conditions in Egypt. 
These horses had been born in the UK and were shipped overseas to serve in WW1, but they had never been returned home. The official reason given at the time for this was 'lack of transport', but it was a commonly held view that they were sold to Egyptian horse traders as the easiest option after the war. Many British horse lovers felt a sense of betrayal. 
Will anyone who ever loved a horse... help us save them?
Now resident in Cairo, Dorothy felt a strong urge to seek out these horses and do whatever was needed to ease their suffering. It wasn't an easy task at first – it took weeks of enquiries before she found her first one, an emaciated old chestnut horse with a clear army brand on his near quarter, whom she named Old Bill. 
Old Bill had served in Palestine once, but was in a terrible state now, with lifeless eyes and a gaunt frame supported by four shapeless swollen legs that trembled under his weight.
Dorothy went on to find hundreds of poorly and worn-out animals desperately in need of help. She set up the Old War Horse Campaign of Rescue, and began raising the funds needed to buy the horses from their owners, the first stage in lifting them out of a life of pain.
To raise more funds she wrote a letter to the Morning Post (which later became the Daily Telegraph) exposing their plight. The public were so moved they sent her the equivalent of £20,000 in today's money to help end the suffering of these once proud horses.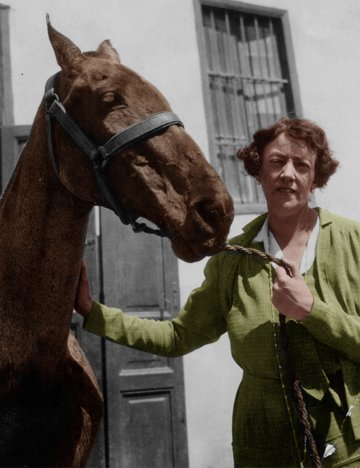 Within three years, Dorothy Brooke had purchased five thousand former war horses. Most were old, exhausted and had to be humanely put down. But thanks to her compassion, they ended their lives peacefully.
Dorothy Brooke knew thousands of hard working horses, donkeys and mules were still out there suffering, so in 1934 she founded the Old War Horse Memorial Hospital in Cairo, with the promise of free veterinary care for all the city's working horses and donkeys.
And that is how The Brooke Hospital for Animals was born.
Who was Dorothy Brooke?
Dorothy was born in Melrose, on the Scottish borders, on 1 June 1883, and spent her childhood in a peaceful idyll in Scotland and later in Wiltshire and Hampshire.
Dorothy loved horses as a child and grew up to become an accomplished horsewoman. These early years spent in the world of equine husbandry stood her in good stead when she found her calling in Cairo, as she was well equipped to understand the plight of the horses she found there, and well connected with horse enthusiasts back home to build a movement to help them.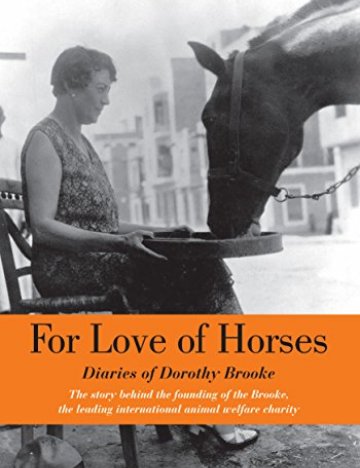 Dorothy continued to work for her charity until her death on 10 June 1955. She was buried in her adopted home of Cairo, but the strong family association that founded the Brooke continues today. Family members are still involved with the charity.
Dorothy's granddaughter Ann Searight is a vice president, ensuring that the spirit of Dorothy Brooke lives on.
Dorothy wrote diaries throughout her time in Egypt. They chart Dorothy's dedication and determination to set up the hospital. 
In 2014, to mark Brooke's 80th Anniversary, we reprinted Dorothy's edited diaries, For Love of Horses, with new photos and material about our work today. A copy of the book is available to buy on Kindle.
Brooke: the formative years
1930s & 40s
Dorothy Brooke arrives in Cairo, Egypt with her husband, a Major General in the British army.
She writes a letter to The Morning Post to urge the British public to help relieve the suffering of thousands of ex-war horses she encounters in Cairo.
The Brooke Hospital for animals is established in Egypt.
The first shade shelter and water troughs are established in Cairo. First motorised ambulance starts to operate.
1950s to 2000s
Clinics open in more Egyption locations – Alexandria,  Luxor, Mersa Matrouh and Edfu - and then further afield in Petra, Jordan. 
Brooke looks to the east, establishing an office in Pakistan and mobile teams operating in India.
Brooke Netherlands begins to raise money.
2000s to present
Brooke begins partnership programmes in Kenya, Guatemala, Nepal, Afghanistan and Occupied Palestinian Territories.
A ground-breaking research programme begins with Bristol University Veterinary School, resulting in SEBWAT - a new tool for equine welfare assessment.     
Emergency relief becomes another strand of Brooke's work, starting with a partnership with Mercy Corps, after an earthquake strikes in Pakistan. 
HRH the Duchess of Cornwall (now HM The Queen) becomes Brooke's President.
Offices are set up in Senegal, Ethiopia and Nicaragua.
Brooke closes Jordan office and hands over responsibility to the government. 
War Horses of WW1 and the beginnings of Brooke