Will you stand against the slaughter of working donkeys?
Hundreds of thousands of donkeys are slaughtered for their skins and exported annually, mostly from Africa, causing donkey numbers across the continent to decimate. It is driven by demand from China, as skins are boiled to produce 'ejiao', a gelatin used in traditional Chinese medicine.
Donkeys are often stolen from families who depend on them for their livelihoods – families often already struggling and living below the poverty line.
Brooke is calling for a global ban on the trade of donkey skins and a crackdown on cross-border smuggling of donkeys for their skins.
CALL ON WORLD LEADERS
Sign the petition to demand a global ban on the donkey skin trade!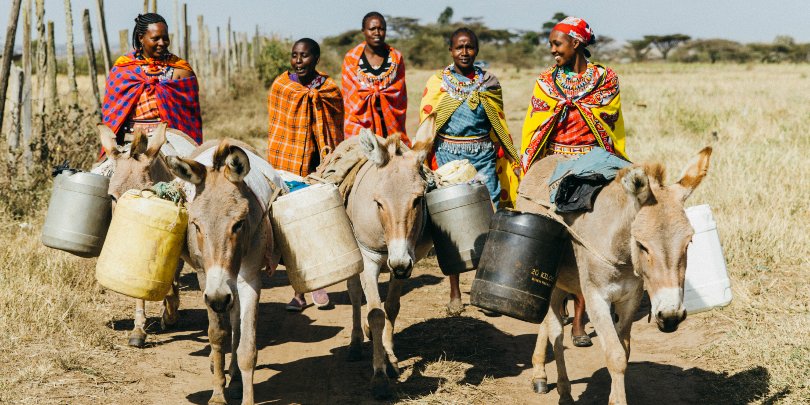 Seven Facts about the donkey skin trade
What you need to know about the trade
*Latest News*
Tackling misinformation in Kenya
Donkey slaughter for the skin trade is banned in Kenya. But that hasn't stopped slaughterhouses trying to overturn it. One of the main reasons it's banned is because the government recognised the damage it was doing to the livelihoods of Kenyan people. With donkeys being stolen, a pressure being put on their owners to sell, and the rising cost of donkeys all mean that people are losing the donkeys they need, and aren't able to replace them. 
One of the slaughterhouses, Goldox, thought they could solve that problem by simply making more donkeys. They had set up their own farm, and started promoting it as the quick fix solution, in a desperate plea to be allowed to operate. Brooke East Africa and its partner organisations KENDAT, Send A Cow and CARITAS swung into action to do their own media outreach, to explain why farming and breeding is not the answer. The main reasons are:
It would be bad for donkey welfare
Breeding to meet demand is not practical, feasible or economically viable.
Live transportation and intensive donkey farms pose high disease risks.
There's no evidence that the product made from donkey skins, ejiao, has any medical benefits.
Watch the video below to see Brooke East Africa's Programme Manager, Elijah Mithigi, in action on Kenyan TV. To get a more in depth look at the issue, read this blog, written by Brooke East Africa's Advocacy and Innovations Officer, Samuel Theuri.  
Brooke has also created a fact sheet on farming and breeding for the donkey skin trade.
Fighting for donkeys in court
On 24 February 2020 the campaign against the donkey skin trade hit a huge milestone - the Kenyan Ministry of Agriculture, Livestock, Fisheries and Cooperatives announced that they would be banning the slaughter of donkeys. Kenya has been the epicentre of the donkey skin trade. Up to 1,000 donkeys were thought to be killed daily for their skins. In 2018 alone almost 160,000 donkeys were killed in slaughterhouses, translating to 8.1% of the population. 
However, in June 2020 the Kenyan media reported that the ban on the donkey skin trade has been effectively lifted just four months after being announced. The slaughterhouses have appealed through the Kenyan courts, claiming that the ban is unlawful. This has allowed at least one of them to temporarily start operating again. This is a huge threat to the lives of donkeys, a worry to donkey owners, and a disappointment for Brooke teams in Africa and around the world.
This does not mean the ban has been completely overturned. Brooke, the Kenyan government and donkey owning communities are fighting back, defending the ban, and campaigning for the safety and welfare of donkeys and their owners. 
Taking action in Tanzania
The donkey skin trade is also present in Tanzania, a neighbouring country of Kenya, so it is the next target for the Brooke East Africa team.
Two slaughterhouses had licences to slaughter donkeys, but these were due to expire at the end of June 2020. Brooke and our in-country partners had been working with the Tanzanian authorities to try to make sure these licences weren't renewed, building important relationships with both the Chief Veterinary Officer and the Ministry of Agriculture. To bolster these efforts, and thanks to supporters of our campaign, we were able to fund three advertisements in the Tanzanian press, showcasing the value of the donkey. 
Sadly, on 30th June the authorities decided to re-licence the one operational slaughterhouse in Tanzania for a further six months, so the decision has gone against us, for now. But this is not the end of the story. As the licence extension is short, we can be hopeful that in half a year's time we will have another chance to end the donkey skin trade in Tanzania.
In the meantime, we and our partners on the ground will do all we can to establish the reasons for this decision, taken in spite of all the evidence showing why the trade should end, and plan our next steps to overturn it.
A Brooke webinar on the donkey skin trade
On 27 May 2020 Brooke held a webinar to update our supporters and campaigners on how we've been tackling the trade in East and West Africa, and how the COVID-19 pandemic has affected the trade. It featured Emmanuel Sarr from Brooke West Africa and Lyne Iyadi from Brooke East Africa, and was hosted by Nigel Wilson, Director of Programmes. You can watch it again here.
What is Brooke doing to help?
To mark World Animal Day 2019, we produced a policy brief with recommendations for policymakers NGOs and researchers, and a research report that outlines the effects of the trade on people's livelihoods in Kenya. You can download both at the bottom of this page.
We are also working to eradicate the donkey skin trade through various initiatives. 
We work on the frontline with donkey-owning communities. Brooke East Africa and their partners have helped to set up over 400 groups with over 9000 members.  
We fund community-led initiatives to protect their donkeys.
We add resources on the ground to expand lobbying and community engagement.
We mobilise communities and help them gather evidence and present it to their governments.
We collaborate with other animal focussed organisations to learn from their experiences. 
We alerted the World Organisation for Animal Health (OIE) and the Food and Agriculture Organization of the United Nations to get the issue on the worldwide agenda.
How can you help?
Right now, we are working on the next stages of our campaign, and how you can get involved. Our supporters have already funded a massive amount of our work to tackle the donkey skin trade, and helped us to influence policy. 
To make sure you get the latest information on how you can get involved in our campaign, make sure you opt in to share your email address with us when you sign the petition
On World Donkey Day 2020, Jonathan Collier, Global External Affairs Advisor at Brooke, blogged about the enduring threat to donkeys caught up in the trade, and our plans for the future. Read it here
Further Reading