Dr Jennifer Wathan, Global Animal Welfare Advisor
Dr Jennifer Wathan leads our Compassionate Handling project. She also supports capacity building in animal welfare and behaviour and human behaviour change, and the delivery of our field activities, programme management, and research.
Expertise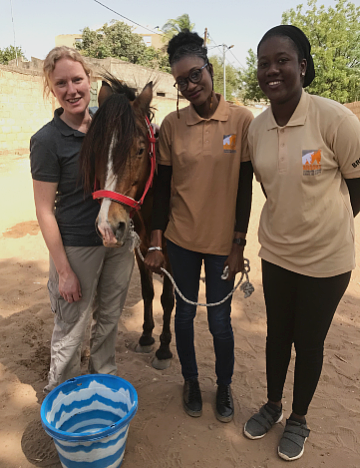 Equine behaviour and communication
Human behaviour change
Facilitating adult learning
Qualifications
PhD Psychology (The Production and Perception of Facial Expression in Horses), University of Sussex

MSc Cognitive Neuroscience, University of York

BSc Psychology with Neuropsychology, Bangor University
Publications
Hobbies
Spending time with my horse and dog, family and friends. I enjoy spending time outdoors, walking, cycling and swimming, as well as learning about natural history, ecology and conservation.
Most interesting work moment
Probably something I experienced during my first visit to Guatemala. A lovely mare had been found abandoned with a horrible leg fracture; she'd been there for a few days and some concerned people contacted our local partner, ESAP, to ask for help. Whilst generally we no longer support direct treatment of animals we do have emergency procedures for these sorts of situations, and ESAP have been working hard to establish and implement these procedures in Guatemala. It's so complicated with the legalities of ownership and responsibility of the animal, and in this case sadly it was clear that the most humane option was euthanasia, which is not common in Guatemala so local vets aren't equipped for it and would need to be supported by the ESAP/Brooke team.  
This situation went on for a long time while we were standing on the side of the road, which gathered quite large crowd that in turn attracted trucks full of armed police! Everyone involved wanted to do the best for the animal but we had very different views on what that was – the ESAP team and I felt that euthanasia was the kindest option but as it is not common the local municipality (who assumed ownership of the mare) were very uncomfortable with this. It was an intense experience understanding their different ethical perspectives and trying to articulate why I felt the way I did, but in a bittersweet way I'm pleased to say that the mare was finally peacefully euthanised. Something we take so much for granted in the UK was such a large logistical effort involving multiple different organisations and it was a real eye opener for me.
Best part of your job
I love horses, donkeys and mules, and I never get bored of meeting and getting to know new equine personalities! However, the people you meet really stick with you too – hearing their stories and understanding their lives and their partnership with their animals. The real highlights are when you work with someone to create an 'aha' moment, and either me, the person I'm working with, or the both of us have a moment of new insight or inspiration – they're the best parts of my job.
How did you get your job?
I studied Psychology at university, where I became really interested in what behaviour can tell us about peoples' and animals' internal states and cognition. I initially specialised in working with people who had survived a stroke, but I moved into comparative psychology and began studying a range of species including chimpanzees, dogs, parrots and, of course, horses!
 I never get bored of meeting and getting to know new equine personalities!
I have always loved horses and spent time working at different equestrian centres. I particularly enjoyed working with animals that needed rehabilitation, and also coaching with organisations supporting people with special educational needs. I couldn't decide between pursuing my research career and my practical work with horses, but thankfully I eventually managed to combine them! After graduating from my PhD I started working for the Riding for the Disabled Association and British Blind Sport, leading a project improving the accessibility of the UK equestrian industry to people with visual impairment. As that project finished, I saw a Research Coordinator position advertised at Brooke, and have since moved into the Animal Welfare team.
I love working for Brooke and their holistic approach - looking at the bigger picture and the interconnectedness of different parts of large systems - and I'm really enjoying bringing my experience together and applying it to better understand animal welfare and human wellbeing for positive change.