Our work in strengthening animal health systems
We work towards strengthening animal health systems to ensure sustainable change for animals and people who rely on them.
The need to strengthen animal health systems globally
An animal health system is the organisation of people, institutions and resources that deliver healthcare services to animals and their owners. A health system includes animal health practitioners (veterinarians and veterinary paraprofessionals), veterinary medicines, surveillance and diagnostics of disease as well as the legal framework and financing of health services. All these different elements need to function well in isolation as well as together for the system to work effectively.
Compared to human health, animal health systems receive much less investment and attention. There are significant gaps such as:
Lack of reliable data on the size of the veterinary workforce and their level of competence;
Lack of adequate training of animal health practitioners in line with international standards;
No common understanding of what constitutes essential medicines, and low availability;
Weak surveillance systems that mean diseases can spread from infected animals to healthy ones (and to humans), like in the case of COVID-19;
Insufficient financing of animal healthcare services;
Limited access to veterinary services amongst animal-owning communities.
What we are doing
Rather than address isolated challenges, Brooke's approach is to strengthen entire animal health systems in the countries where we operate. That way we can ensure lasting change for animals and for people who rely on them. We do it through a range of initiatives, working in close partnership with local, regional and global stakeholders.
Training and mentoring animal health practitioners
Brooke's Animal Health Mentoring Framework (AHMF) is an innovative approach to training professionals in the field. It includes a list of essential skills and competencies required to provide good quality animal health services.  It's used by specially trained veterinarians to assess and improve the skill and competency levels of animal health providers in a work setting, where skills can be applied immediately to real-life situations.  The AHMF is now used by universities and governments to train their students and staff.  
We also work to improve standards of animal health education at international level, as part of a working group under the World Organisation for Animal Health (OIE). Brooke has contributed to the development of international standards for paraveterinary education across OIE member countries.
Improving access to medicines
As part of the Animal Health Mentoring Framework, we assess the contents of medical kits of animal health practitioners. Through our work we have found that hardly any practitioners carried pain relief medication in their kits. In Kenya, Brooke worked with a social enterprise Sidai to ensure that veterinary kits included pain relief.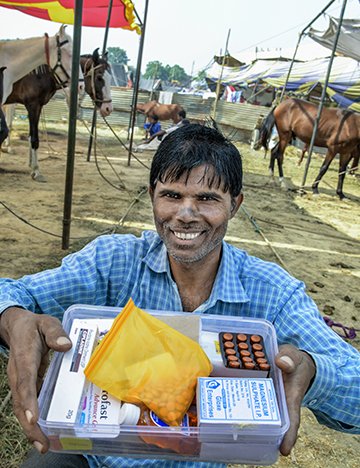 One Health - integrating human, animal and environmental health
One Health is an approach that integrates human, animal and environmental health. One Welfare is a similar concept bringing together welfare and wellbeing. Brooke has been using the One Health and One Welfare approaches to guide our work for many years. Our Animal Health Mentoring Framework, our projects in brick kilns as well as our work around the donkey skins trade are examples of how we use a One Health approach in our work.
Research and policy
Brooke is partnering with leading academic institutions and international organisations on the
Global Burden of Animal Diseases
programme, a multi-stakeholder initiative funded by the UK Foreign, Development and Commonwealth Office, and Bill & Melinda Gates Foundation. Brooke is joining 90 organisations globally, contributing our unique expertise in the health and welfare of working horses, donkeys and mules. As part of the project, we are funding and co-supervising a four-year
PhD study on 'Burden of Animal Diseases of Working Equids',
together with the University of Liverpool.
Action for Animal Health
is a new initiative led by Brooke that calls on policymakers to invest in strengthening animal health systems globally through five pillars: 
Increase and improve the animal health workforce
Close the veterinary medicines and vaccines gap
Improve animal disease detection, surveillance and management
Enhance collaboration for One Health
Support community education and engagement
Subscribe
Get the latest insights and updates from our programmes, advocacy and research.