Brooke's animal health mentoring framework
Brooke is taking the lead in this "sharing and building expertise" approach to improving animal healthcare systems.
What is it?
The Animal Health Mentoring Framework (AHMF) is a list of essential skills and competencies required to provide good quality animal health services. It's used by specially trained vets to assess and improve the individual skill and competency levels of animal health providers (AHPs). (An AHP is anyone who provides animal healthcare, including veterinarians, veterinary paraprofessionals or community based animal health workers.)
Why is it needed?
Competent and compassionate AHPs are essential for animal welfare. They play a vital role in supporting all animals, as well as the owners and their communities, benefiting not only the animals cared for but also the local economy to which they contribute.
But we know clinical competency levels vary, that there are gaps in training and support networks as well as resources - such as the unavailability of pain relief - in the systems, and that harmful practices still occur. This is detrimental not only to animal welfare, but also to AHPs' businesses and confidence in services.
How does it work?
Although it assesses skills and competencies, the framework focuses on mentoring and constructive feedback, rather than assessment, to address any knowledge or skill gaps.
 It's based on the Brooke Veterinary Competence Framework and encourages AHPs to be:
an advocate of animal welfare
an effective communicator
an excellent clinical practitioner
able to demonstrate good clinical governance
These areas provide a base on which to build good practice.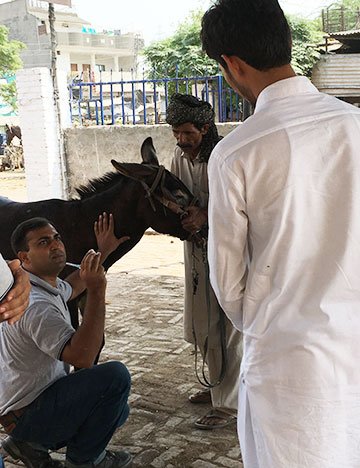 Mentoring takes place in the field when the AHPs are seeing cases in their day-to-day practise. It's student-lead, focusing on building practical skills and encouraging reflection, constructive feedback and positive practices.
By identifying and solving problems with local AHPs, animals will receive better treatment and recover more quickly. Effective advice to improve husbandry and practise will be available, and AHPs will feel supported, more confident and better equipped for their role as animal welfare advocates within their communities.
Right: Brooke Pakistan vet Dr Manuchahar Ali mentoring a local animal healthcare provider
This approach demonstrates Brooke's shift to more strategic applications - strengthening existing systems by building skills in others rather than doing it ourselves - and is a sustainable way of increasing our reach so that more animals and communities can benefit from quality healthcare.
The data collected by the framework can also show where there are areas of weakness across all AHPs which can then be addressed more widely. Evidence gathered by it can be used to lobby for improvements in animal healthcare education and the entire system.
Independent review
Next steps
We are rolling out the AHMF with Brooke vets and partner organisations, and will use the results to build a global picture of the animal healthcare systems within the countries in which we work.
There is now a livestock version of the framework that can be used with other animals which will benefit not only working horses and donkeys but all animals that the AHP is treating.
A research project is planned with an academic partner to assess the educational impact of this framework. Feedback and other qualitative data will be also published.