Dr Nidhish Bhardwaj, Head of Animal Health and Welfare
Based in Delhi, Nidhish leads Brooke India's teams on veterinary care, animal health, welfare, training and research. He facilitates partnerships with institutes and organisations and is responsible for capacity building across Brooke India's animal welfare and health work. He also leads the Global Farriery Project in India.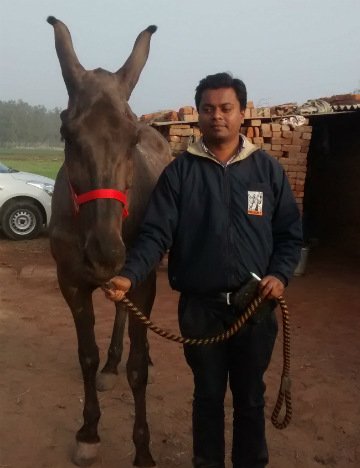 Expertise
Veterinary training
One Health
Welfare assessment
Interpretation of animal behaviour
Qualifications
Bachelor of Veterinary Sciences
Master of Social Work
Hobbies
Travelling to new areas and exploring different cultures. I also enjoy watching sports and travel shows on TV.
What's your most memorable work moment?
It's very rewarding to receive messages of gratitude from Brooke India-trained vets, students and local health providers who attend equine cases successfully. I'm also proud to represent Brooke's work at international and national forums and conferences.
What's the best part of your job?
The interaction with communities and their animals. I enjoy observing animals whilst working in challenging environments, as it provides an opportunity to interpret their behaviour and identify welfare issues. I find that this helps in educating owners on welfare issues so that they can recognise them themselves.
How did you get your job?
This is my second stint with Brooke India. Earlier, I was working on the ground for implementation of the programme and gained immense experience on veterinary training, animal welfare and health. I was very happy with the professionalism and nature of work at Brooke Inida and decided to apply for the exciting opportunity of Head of Animal Health and Welfare. I was confident that with my 10 years of experience I would be able to contribute to Brooke's mission.