Erin Zanre, Senior Manager, Community Development
Erin Zanre coordinates the Global Community Development team across our country programmes. She supports teams in optimising their approaches to working with communities to address the root causes of equid welfare issues and improve the lives of equids and the communities who depend on them.
Expertise
Community engagement and development
Sustainable livelihoods
Facilitation, training
Strategic planning
Participatory learning and action processes
Human behaviour change
Qualitative monitoring
Gender mainstreaming
Qualifications
10 years international work experience in the fields of participatory community-based planning, engagement, and development in support of natural resource management and wildlife conservation initiatives in Africa, South and South East Asia, and the Pacific Islands.

PhD Fellow Natural Resource and Environmental Management (2.5 years)

MSc Primate Conservation

BA Biological Anthropology and International Relations
Hobbies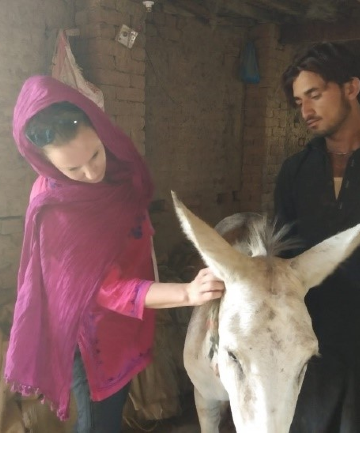 Scuba diving, paddle boarding, personal development, snowboarding, dancing and travel.
Most memorable work moment
Conducting focus group discussions with communities in all of our country programmes to understand the importance of their equids to their lives, the challenges they face in caring for them, and how participating in Brooke's projects has changed their lives.​
Best part of your job
When I see light bulbs turn on in people's minds when they come to important realisations as a result of designing effective training and participatory learning and reflection processes which make people believe in themselves, their capabilities, and increase their motivation and excitement to better improve the lives of animals and communities who depend on them.
How did you get your job?
I started my career interested in animal welfare, rescue and rehabilitation and quickly came to understand that I could make the biggest difference in the lives of animals by working with people since human action is the root cause of their suffering. After working internationally for many years in support of conservation and community-based natural resource management initiatives, I moved to the U.K. and was excited by the opportunity to apply my skills to the role of Senior Manager of Community Development with Brooke as it was a natural fit with my passions for improving the lives of animals and communities.