Clemencia Osa Ouma, Project Development Manager
Based in our East African (Nairobi) office, Clemencia manages a team of experts on advocacy, communications and fundraising. She manages relationships between Brooke East Africa and the UK partnerships and philanthropies department, along with several donors and supporter expectations and reporting requirements.
Expertise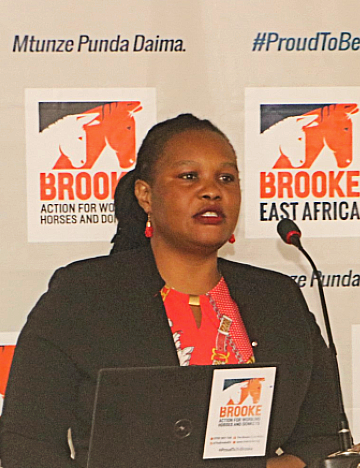 Developing funding proposals
Conducting research using a variety of methodologies, including participatory ones
Developing and maintaining partnerships
Monitoring the project management cycle
Strengthening donor reporting
Conducting community needs assessments
Managing donor relationships
I help people and organisations engage effectively and create change, value and impact. I focus on the less fortunate and those who are often excluded from problem solving and decision making. As a monitoring and evaluation expert, researcher, gender inclusion and analysis specialist, I have developed perspectives that include everyone in conflict resolution and embraced the importance of diversity in project management.
I am also an author on women's economic empowerment. I write to explore possible solutions to daily issues affecting disadvantaged women and girls. My approach does not exclude boys and men, but I'm keen to have them realise the impacts of not empathising with and joining in the women empowerment dream.
At Brooke, I have brought the human and inclusion angles to develop projects that not only resonate with donor requirements, but also those that solve the issues of the most marginalised in ways that are transformative and long lasting.
Qualifications
Masters of Arts in Project Planning and Management, University of Nairobi (My Master's degree explores the role of microcredit in the growth of women-owned micro-enterprises in light of growing urban areas in Kenya)
Bachelor of Arts in Community Development (Major), Business Administration and Management (Minor), Daystar University
Discussing World Water Day on Good Morning Kenya
Hobbies
Swimming, coaching and reading motivational books.
Most memorable work moment
When we sit down with communities and partners to plan for the year ahead and report on the year past. That's my 'ah-ha!' moment. It gives me the opportunity to understand how Brooke is changing the lives of equines and community members who depend on them for survival. I enjoy being involved in case study development and preparing the most significant change stories for donors and the organisation.
Best part of your job
My job provides me an opportunity to be a bridge between communities and donors as well as our UK office.
How did you get your job?
I saw an advertisement in the local daily newspaper. I was shortlisted and I applied. I interviewed for the position together with many other candidates, and I emerged the winner!