Afghanistan
Continuous droughts and ongoing internal warfare in Afghanistan make this is a challenging country to work in. Since 2008, Brooke has committed to helping the country's 1.7 million working horses and donkeys with a primary focus on improving animal welfare through changes in human behaviour.
Afghanistan at a glance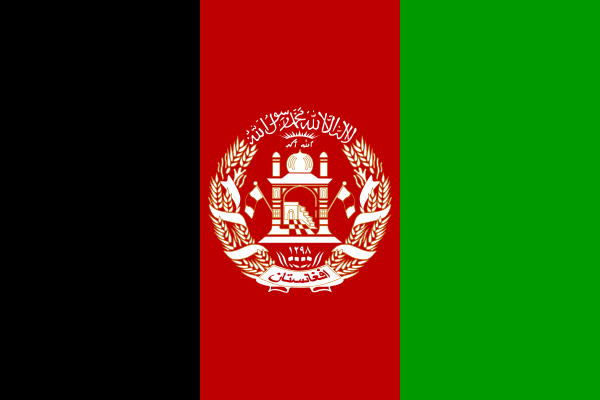 Population: 29 million
Percentage of population living below the poverty line: 36%
(with over 80% of the equine owning communities classed within this 36%)
Number of working donkeys, horses and mules: 1.7 million
(92% of which are donkeys)
Number of partners: One
Background
Afghanistan has the twelfth highest density of working horses and donkeys in the world. Many are vulnerable, working in difficult conditions, pulling and carrying heavy loads in brick kilns and urban areas. The country's infrastructure is severely damaged and the government and aid agencies have limited resources for development. Currently it's estimated that 36 percent of the total population are living below the poverty line. Over 80 percent of the equine owning communities fall within this category.
What's happening now
Since 2008 we have worked in partnership with the Dutch Committee for Afghanistan (DCA), which trains paravets to improve veterinary services for working horses and donkeys. The DCA provides six months of training every year to animal health workers who go on to provide important services for working equines. Putting the equine owning/using communities in touch with these trained health workers means owners can afford healthcare for their animals.
Equipment
DCA also supports owners with equipment such as portable water troughs, grooming brushes, hoof picks, blankets, safe saddles, hobbling pegs and new harnesses. In addition, we help enhance the living conditions of their animals by improving stables (mud-plastering, whitewashing, disinfecting, and better ventilation and lighting). One result of this is more animals are now free from ticks. In Kabul, the number of animals free from ticks has risen from 60 percent in 2011 to 95 percent in 2016 and in Nangarhar from 50 percent in 2011 to 98 percent in 2016.
Brick kilns
Another important aspect of work is around the brick kilns where extreme temperatures, lack of shade, difficult terrain and overloading can cause suffering for horses, donkeys and mules. Disease and injuries are common. There are an estimated 6,900 equines working in brick kilns across Afghanistan. 
Help us reach the 6,900 horses, donkeys and mules working in Afghanistan's brick kilns
Community engagement
We are developing knowledge about animal welfare and practice among equine owning/using communities through improving the understanding, attitudes and practice of around 5,000 animal owners. As a result, we're expecting to sustainably improve the welfare of over 42,000 animals by 2017.
Behavioural change amongst children is a sustainable way of improving equine welfare. Two of the volunteer children, who are now adults, are currently leading the adult welfare groups in their villages.
DCA also works with community leaders to raise awareness of working equine health. We run behavioural change programmes which support traditional/religious leaders/school teachers, providing them with resource materials (chapters, posters, loudspeakers, etc) to deliver talks about animal welfare to more than 8,200 owners.
We have also developed savings and credit groups for owners so they can share good practices and influence positive behaviour through peer pressure and saving money on equine care.
Find about more about community engagement.
Why is a donkey like a thumb?
Working with children
One of the biggest strengths of our programme in Afghanistan is our work with children. Children are an important group because culturally they are able to interact with anybody and can go into the homes of others in their community. Many of them also handle animals or grow up to be in charge of them.
In response, we have printed children's books in conjunction with role-play exercises to educate children in good practice. Child volunteer groups also help to measure sustainable changes in equine welfare. They do this using a tool called a Participatory Welfare Needs Assessment (PWNA), which the community uses to assess the physical and psychological welfare of their working animals.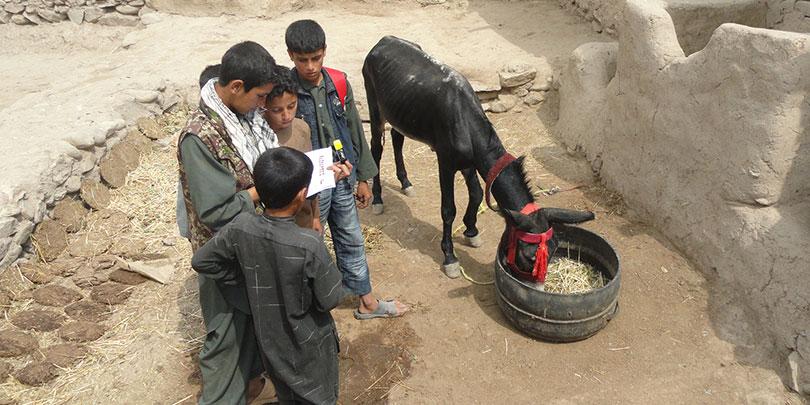 With your help we can reach increase the amount of children we reach in Afghanistan.
Advocacy
DCA is working to increase the visibility of working equine animals within relevant ministries and to make a case for greater attention and recognition of the role of working animals in supporting people's livelihoods.
Read more about advocacy and policy.
Service provision
DCA is training private animal service providers (paravets, farriers, saddlers and traditional healers) in Kabul, Nangarhar, Samangan, Balkh and Herat provinces.
Facts and figures
Percentage of owners providing >3 times water/feed: 2014-15: 64.6% / 2015-16: 72%
Percentage of stables in which ammonia gas doesn't burn eyes/nose: 2014-15: 59.6% / 2015-16: 68.0%
Percentage of owners disinfest stables yearly: 2014-15: 59.2% / 2015-16: 65.6%
Percentage of stables mud plastered: 2014-15: 45.9% / 2015-16: 76.1%
Brooke partnerships
We operate in partnership with a variety of organisations to extend the range and impact of our work.