Donkey theft in Kenya - impact on children
Kisima is a widow living in Nimalat, near Narok, Kenya. Since her husband died unexpectedly, she has been raising her nine children by herself. Since her husband died, "life has not been easy" for Kisima, who is now the breadwinner and the homemaker. "I just never wanted my kids to suffer after my husband's death." She earns money through selling charcoal at market. Her ability to make money for her children is completely dependent on her two donkeys.
My whole life I have relied on the donkey; it feeds my family and I, and educates my children too
Not long ago, one of Kisima's donkeys was stolen from her in the night. She heard a disturbance outside her home and went to investigate, but as a woman living alone with her children, felt it was too unsafe and went back inside: "That night we were sleeping and my eldest son was not around. We could hear the goats mew so I got out of bed. I went around the house but couldn't see anything. I went back in because I felt it's not good to walk by myself at night. I got up at 3am to pray, only to find that only one donkey was outside." 
"For a minute I thought that it had just walked out a little bit to go look for food. I looked around but saw nothing. I then sat until morning and took the kids to school. I looked around the village for my donkey but it wasn't there either. My son came to help me look for it but we still couldn't find it. The following day I went to Ntulele to look for those who were killing donkeys but could not see any there where the donkeys are slaughtered. It looks as if the person who took it went and sold it somewhere else. I went round to Ntulele and Narok then came back home because we couldn't leave the little one alone… it took me three weeks to look for the donkey but still it was nowhere."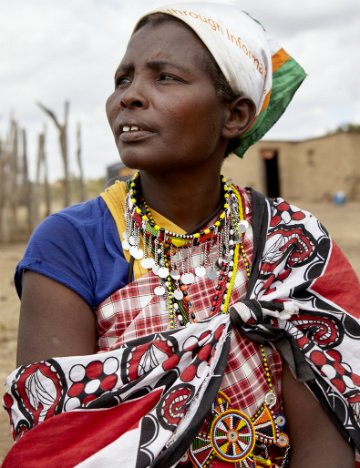 A sharp increase in recent years of trade in donkey meat and skins is driving demand for the widespread slaughter of these animals. As prices are driven upwards, black-market activities are also increasing, supplied by illegal activities of rustling and illegal slaughter. Consequently, there has been a massive increase in donkey theft in many parts of Kenya, attributed to legal and illegal slaughter for skin. three slaughter houses have been licensed in Kenya since April 2016, slaughtering approximately 400 donkeys a day and fuelling donkey theft, including one near to Kisima in Narok. This has meant the number of thefts has increased dramatically in her local area. The demand is impoverishing Kenyan families, who rely on the labour of these animals to earn a living.
For Kisima, who was already living close to the poverty line, the theft of one of her donkeys has had a profound impact on the life of her and her children.
I got together the money to buy another donkey. This was a big loss…my daughter had to stay home for a whole term. Then one of the uncles came and told me because your daughter has stayed home for a long time she should just be taken to the husband. I said no that I will just manage to take her to school.
Kisima is part of a women's only donkey welfare group, who work with Brooke East Africa's partner, Farming Systems Kenya. The group entered Brooke's Linda Punda competition, looking for innovative ideas on how to protect donkeys from theft. Kisima's group entered the competition: "My hope is that we can build somewhere where we can shelter our donkeys and also provide someone who will guard and feed them at night and during the day and those women whose donkeys had been taken they should be bought new ones so that they be able to work us so that we be able to grow together."