Guatemala will now include animals in disaster response protocol
National disaster response plans in Guatemala will now include protocol for the care of animals thanks to an idea formulated by Brooke's partner, ESAP.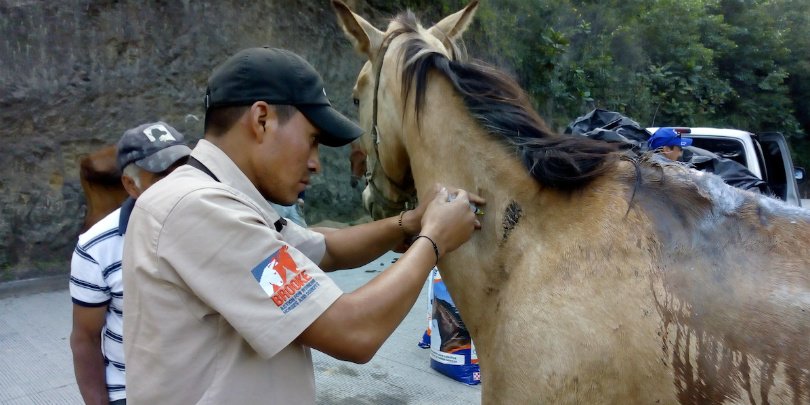 The protocol was approved by The National Coordinator for Disaster Reduction (CONRED) at a press conference attended by ESAP on 13 March 2019. CONRED is responsible for coordinating the preparedness and response during any kind of national emergency.
Now, in the event of an emergency, there will be specialised brigades for equines, cattle, pigs, poultry, pets, wild and exotic species, and aquatic animals. ESAP will focus on the safety and preparedness of equines alongside the Ministry of Agriculture, Livestock and Food Security (MAGA).
The approval follows June 2018's devastating Fuego volcano eruption, which affected an estimated 1.7 million people in the region. An emergency grant of £13,166 ensured that Brooke, through ESAP, was able to help a total of 1590 families and nearly 24,000 animals, including poultry, cattle and pigs.
We are very grateful to Brooke and Brooke USA for supporting ESAP to establish the protocol and start building a very promising future for animals in Guatemala.
Brooke has worked in partnership with ESAP in Guatemala since 2006. The country is home to an estimated 228,000 working equines, who are relied upon for the transportation of goods and for carrying water from wells to homes.
Guatemala is now the third country in Latin America, alongside Mexico and Chile, to ensure that the care of animals is taken into consideration when producing emergency response plans. Other organisations involved with the formulation of the protocol included The Professional College of Veterinarians, The National University, the International Regional Organisation for Agricultural Health (OIRSA), World Animal Protection and several dependencies of MAGA.