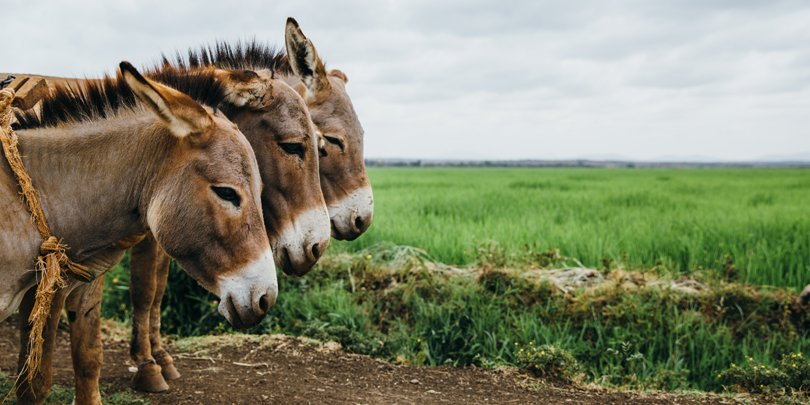 The Problem
There have been widespread reports from many African countries of donkeys being stolen, horrifically mistreated and cruelly slaughtered for their hides, to meet an increased demand from China. The hides are used in producing 'ejiao' for traditional Chinese medicine. There are welfare abuses in the holding, slaughter and transport of thousands of donkeys.
Overwhelming demand is also impoverishing poor African families who rely on the labour of these animals to earn a living. Substantial loss of earnings and extreme price inflation of donkeys mean that poor people cannot afford to replace their animal and can backslide into poverty.
 
Help Brooke reach more animals in need
The rapidly evolving relationship between China and Africa has attractive benefits to investors. However, there are devastating unintended consequences. Consideration must be given to the needs of poor people and their essential livestock.
Irrespective of whether or not people agree with the use of donkey products, it is vital that the welfare of donkeys involved is properly addressed. International Brooke teams are working together and collaborating with governments and other stakeholders to tackle this issue.
Petra Ingram, Chief Executive of Brooke said:
"The effect we're seeing on the African donkey population is proving even greater than we originally feared. Alarming reports have been coming in from Kenya, Ethiopia and South Africa, and it's clear that it is affecting the people who rely on donkeys to support their livelihoods.
 
"The suffering taking place is stark, and it is unacceptable. We are against all these illegal activities, and are taking steps to do everything in our power to prevent it. We have already funded a study looking at new slaughterhouses in Kenya, and are waiting for the results. This will help us to better understand the issue.
 
"Brooke strongly believes that the lifetime value of donkeys in their contribution to community livelihoods is worth more than being sold for their meat or hides. In taking away someone's donkey, it can mean taking away their means of making a living, potentially for a dangerously long time.
 
We work tirelessly to reduce suffering, and will respectfully tackle the issues, standing shoulder to shoulder with donkey owners.
Taking Action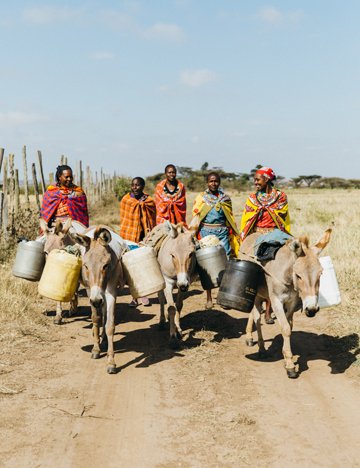 Brooke is working on a country by country basis, with national governments and donkey owning communities as they struggle to protect the welfare of donkeys and people's livelihoods in the face of this growing challenge.
We have funded a study carried out by an organisation called GardenVet in Kenya. They have documented the impact of the donkey trade and slaughter process on donkey welfare in Kenya and to identify areas that need improvement to conform to donkey welfare best practices. The full results are expected soon, and will help us decide on what the next steps should be.
Putting donkey slaughter on the national agenda
On Wednesday 29 March 2017, Brooke East Africa organised a national workshop and talks in Kenya to deliberate on donkey slaughter, its impact to animals and communities, and the best way of tackling the challenges.  Over 60 delegates attended, and they presented research on the issues. The team secured commitments from the government, other animal welfare organisations and community members on what can be done to minimise the negative impacts of the trade.
On Wednesday, 26 April, Samuel Theuri, Advocacy Officer from Brooke East Africa presented at The Kenya Veterinary Association's (KVA) annual conference, this year celebrating 50 years of Veterinary Contribution to Sustainable Livelihoods and growth in developing economies. This conference brings together animal health professionals to discuss the latest news and research.
One of the big subjects at the conference was the issue of donkey skin export, and the increase in theft of donkeys for their hides.  Samuel reported that Brooke East Africa and partners have found that almost 1000 donkeys have been stolen across Kenya between December 2016 and April 2017, and it's likely that the slaughter methods used are extremely distressing for the donkeys and not welfare friendly.
As well as the obvious impact on the donkeys, this is also leaving many owners suddenly without the animal they need most for earning a living. A donkey helps an owner earn the equivalent of £4-£10, and it's estimated that donkeys provide the equivalent of £3.7m in contribution to the economy. Samuel also explained that because of the demand, donkeys have doubled in price, from 7,000 Kenyan Shillings in 2014 to 15, 000 in 2017 making them unaffordable to those who lose their donkey.
To date, the trade of donkeys for their hides is banned in Niger, Burkina Faso, Mali and Senegal. Last week an abattoir in Ethiopia was closed down by local authorities.  A major concern however is that trade continues on the black market and there is increased trade in other African countries.
Brooke as a whole continues to monitor this global issue and is working with its teams across Asia and Africa. We are listening and learning from owners and users and supporting them to protect their donkeys and in turn their livelihoods.
Reducing donkey theft in Kenya communities
Brooke East Africa launched a competition called "Protect your donkey and win" to mobilise local communities to find a solution to reduce donkey thefts. 
Brooke stimulates practical and sustainable ideas to end donkey theft.
Advocating for better welfare
Brooke champions the essential role of donkeys in poor people's livelihoods. In October 2016, our Advocacy team were successful in ensuring that the contributions of working animals to food security and nutrition were officially recognised in livestock recommendations formally endorsed by the United Nations Committee on World Food Security (CFS).
We also recently made a submission to the CFS High Level Panel of Experts (HLPE) after they called a public enquiry looking at Critical and Emerging Issues for Food Security and Nutrition. Our submission highlighted the impact that declining donkey populations and donkey theft due to the donkey skin trade is having on how people access and afford food. It has now been published in the results of the enquiry, and we're pleased to see it acknowledged and incorporated into the findings of the enquiry within the wider topic of Trade. Trade will be one of the key critical and emerging issues being presented to the annual Plenary Session of the CFS, in October 2017, and we're looking forward to a potential body of work on this subject at the CFS.
See also
Brooke's Dr Dil Peeling was recently interviewed on the subject for World Business Report on the BBC World Service. Listen to the interview here, from 16 mins in.