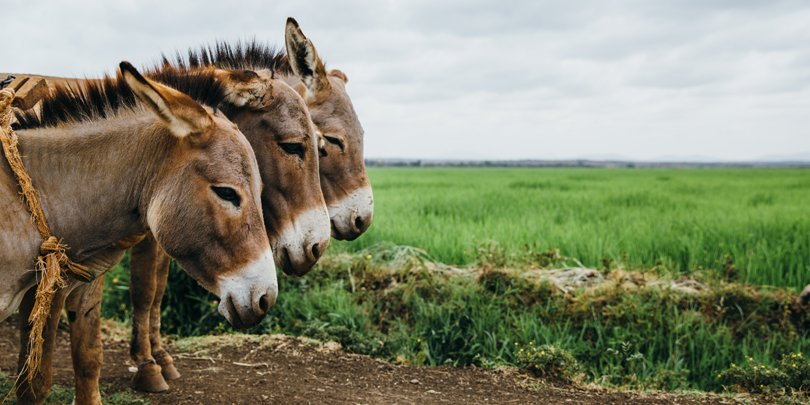 The Problem
There have been widespread reports from many African countries of donkeys being stolen, horrifically mistreated and cruelly slaughtered for their hides, to meet an increased demand from China. The hides are used in producing 'ejiao' for traditional Chinese medicine. There are welfare abuses in the holding, slaughter and transport of thousands of donkeys.
Overwhelming demand is also impoverishing poor African families who rely on the labour of these animals to earn a living. Substantial loss of earnings and extreme price inflation of donkeys mean that poor people cannot afford to replace their animal and can backslide into poverty.
 
Help Brooke reach more animals in need
The rapidly evolving relationship between China and Africa has attractive benefits to investors. However, there are devastating unintended consequences. Consideration must be given to the needs of poor people and their essential livestock.
Irrespective of whether or not people agree with the use of donkey products, it is vital that the welfare of donkeys involved is properly addressed. International Brooke teams are working together and collaborating with governments and other stakeholders to tackle this issue.
Petra Ingram, Chief Executive of Brooke said:
"The effect we're seeing on the African donkey population is proving even greater than we originally feared. Alarming reports have been coming in from Kenya, Ethiopia and South Africa, and it's clear that it is affecting the people who rely on donkeys to support their livelihoods.
 
"The suffering taking place is stark, and it is unacceptable. We are against all these illegal activities, and are taking steps to do everything in our power to prevent it. 
 
"Brooke strongly believes that the lifetime value of donkeys in their contribution to community livelihoods is worth more than being sold for their meat or hides. In taking away someone's donkey, it can mean taking away their means of making a living, potentially for a dangerously long time.
 
We work tirelessly to reduce suffering, and will respectfully tackle the issues, standing shoulder to shoulder with donkey owners.
Taking Action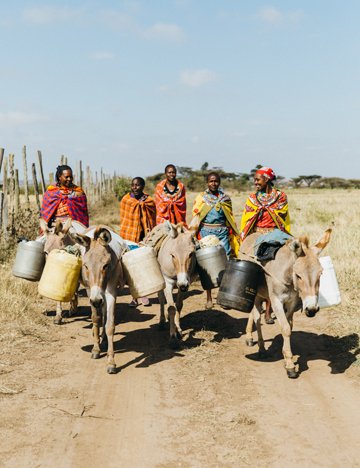 Brooke is working on a country by country basis, with national governments and donkey owning communities as they struggle to protect the welfare of donkeys and people's livelihoods in the face of this growing challenge.
Latest News
Brooke is very concerned about the increased possibility of Pakistan starting exports of donkey hides to China, following reported meetings between the livestock department in Khyber Pakhtunkhwa province and Chinese companies. If trade starts without adequate attention given to animal welfare, there could be serious welfare risks in the holding, slaughter and transport of thousands of donkeys, similar to those we have witnessed across Africa.  We are also concerned that the full long term detrimental implications on the livelihoods of equine owning communities is not fully understood. We are working hard to address this at both Community, Regional and Government level.
There is currently an official ban on donkey hide trade across Pakistan, and our in-country team is in talks with the government, advocating strongly to keep this ban, and for the welfare of working donkeys.
Reducing donkey theft in Kenya communities
Brooke East Africa launched a competition called "Protect your donkey and win" to mobilise local communities to find a solution to reduce donkey thefts. 
Brooke stimulates practical and sustainable ideas to end donkey theft.
Advocating for better welfare
Brooke champions the essential role of donkeys in poor people's livelihoods. In October 2016, our Advocacy team were successful in ensuring that the contributions of working animals to food security and nutrition were officially recognised in livestock recommendations formally endorsed by the United Nations Committee on World Food Security (CFS).
We also recently made a submission to the CFS High Level Panel of Experts (HLPE) after they called a public enquiry looking at Critical and Emerging Issues for Food Security and Nutrition. Our submission highlighted the impact that declining donkey populations and donkey theft due to the donkey skin trade is having on how people access and afford food. It has now been published in the results of the enquiry, and we're pleased to see it acknowledged and incorporated into the findings of the enquiry within the wider topic of Trade. Trade will be one of the key critical and emerging issues being presented to the annual Plenary Session of the CFS, in October 2017, and we're looking forward to a potential body of work on this subject at the CFS.
See also
Brooke's Emmanuel Sarr was recently interviewed on BBC World Service's Business Daily Show. Listen here.