Brooke raises over £24,000 during The Big Give Christmas Challenge
Brooke supporters raised £24,027 during the UK's biggest match funding campaign, The Big Give Christmas Challenge. 
From 3-10 December, supporters were encouraged to visit www.thebrooke.org/biggive to make a donation towards Brooke's Kenya Donkey Skins Appeal. At the end of the seven days, all donations up to the target of £10,000 were doubled and put towards Brooke's efforts on implementing a ban on the trade of donkey skins in Kenya, where thousands of donkeys are being slaughtered to supply the Chinese traditional medicne and beauty products market. The £4,000 that was raised beyond the target will go towards Brooke's wider work around the world.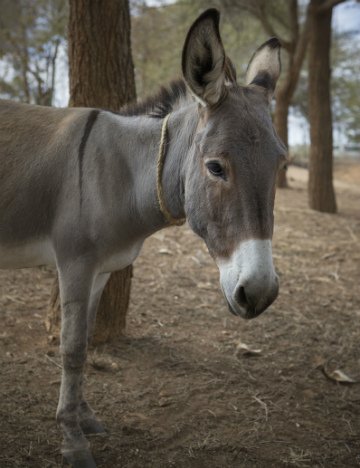 Whilst the donkey skin trade is a global issue, Kenya is at the epicentre. In 2018 alone, almost 160,000 donkeys were killed in the country's four slaughterhouses, translating to 8.1% of the population.
In fact, a recent report by the Kenya Agricultural & Livestock Research Organization (KALRO), commissioned by Brooke, found that if the trend of slow population growth and increasing slaughter continues, donkeys in Kenya could be wiped out by 2023.
To make matters worse, the trade has also fuelled an increase in donkey thefts across Kenya. Stolen donkeys are often horrifically butchered in the street, pushing dependent families into poverty as their main source of income has been taken. 
Queen Matheng'e Singa
Queen is a widow who had all three of her donkeys stolen in one night. She said: "I woke up early morning to prepare to go to work with my donkeys, I called my donkeys by their names but they didn't respond as usual, there was silence. When I got to the farm where they spend the night, I was shocked and became weak to find my donkeys lying dead on the ground, they had been slaughtered at night. What I witnessed made me cry, it really affected me. I used to depend on these donkeys to educate my kids and support my family."
Money raised from this appeal will enable Brooke to continue work within donkey-owning communities and ensure that donkeys and livelihoods are protected. Brooke will also continue to work with local governments and other animal focussed organisations to push through a ban on this cruel trade and create a better future for future generations of donkeys and owners.
To find out more about how Brooke is tackling the donkey skin trade in Kenya, visit www.thebrooke.org/donkeycrisis