War horse facts
Eight million horses, donkeys and mules died in World War I, three-quarters of them from the extreme conditions they worked in. Find out more about these brave war horses.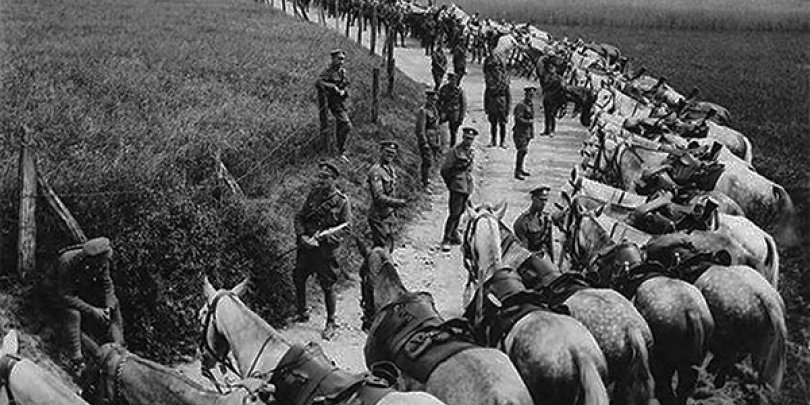 Numbers
At the start of the war, the British Army had 25,000 horses.
Another 115,000 were purchased compulsorily under the Horse Mobilisation Scheme.
Over the course of the war, between 500 and 1000 horses were shipped to Europe every day.
Dummy horses were sometimes used to deceive the enemy into misreading the location of troops.
Roles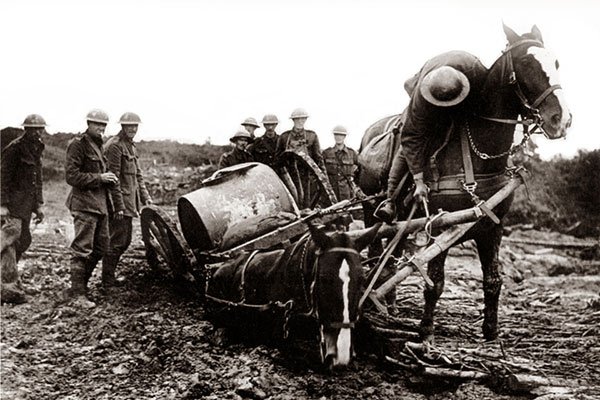 Many horses were initially used as traditional cavalry horses but their vulnerability to modern machine gun and artillery fire meant their role changed to transporting troops and ammunition.
Because military vehicles were relatively new inventions and prone to problems, horses, and mules were more reliable - and cheaper - forms of transport.
Thousands of horses pulled field guns; six to 12 horses were required to pull each gun.
Welfare
Vets treated 2.5 million horses; two million recovered and returned to the battlefield.
The British Army Veterinary Corp hospitals in France cared for 725,000 horses and successfully treated three-quarters of them. A typical horse hospital could treat 2,000 animals at any one time
Well-bred horses were more likely to suffer from shell shock and be affected by the sights and sounds of battle than their less refined compatriots, who could be taught to lie down and take cover at the sound of artillery fire.
It could take up to 12 hours to clean the horses and their harnesses in muddy conditions.
One-quarter of all deaths were due to gunfire and gas; exhaustion and disease claimed the rest.
Horse fodder was the single largest commodity shipped to the front by some countries, including Britain.
The manufacturers of Quaker Oats put in a bid to supply army horses with cakes baked from compressed oats and molasses, but this proposal was dismissed as too extravagant.
Losses
Fearing their horses would face terrible and terrifying conditions at war, some owners took the drastic measure of humanely putting their animals down before the army could seize them.
In a single day during the Battle of Verdun in 1916, 7,000 horses were killed by long-range shelling on both sides, including 97 killed by single shots from a French naval gun.
Losses were particularly heavy among Clydesdale horses, which were used to haul guns.
Britain lost over 484,000 horses - one horse for every two men.
Horses were considered so valuable that if a soldier's horse was killed or died he was required to cut off a hoof and bring it back to his commanding officer to prove that the two had not simply become separated
Share your war horse story
Do you know of a WWI horse, donkey or mule? Perhaps there's a tale that's been passed down in your family, or a photograph of horses being drafted in your local community. We'll share your memories with local media to highlight the contribution of working equines past and present. Send your anecdotes and photos to [email protected]. 
Help Today's Working Horses Around The World