War horse facts
Learn 13 astonishing facts and stories behind the brave war horses of WW1 and WW2.
Dorothy Brooke's compassion for the war horses she saw in 1930s Egypt has made Brooke the world's leading equine charity.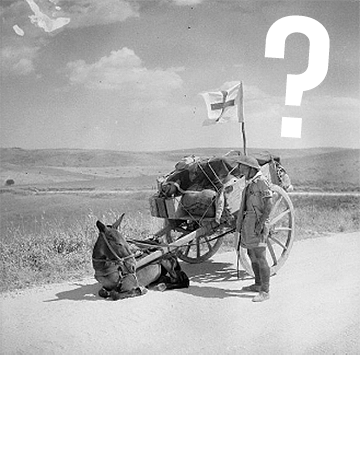 Take our War Horse Quiz
Did horses wear gas masks?
Why were fewer horses used by the British in WW2 than had been in WW1?
How many horses, donkeys and mules died in WW1?
How much do you know about War Horses?
Lets find out...
Here's a clue before you begin: you might find some of the answers on this page!
1. From cavalry to arms transporters - how their roles changed
At the start of WW1, many horses were enrolled as cavalry horses, but their vulnerability to modern machine gun fire meant that by the end of the war their role was based much more around transporting troops and ammunition.
Military vehicles were relatively new inventions at this time and prone to faults, so horses and mules were seen as a more reliable and accessible form of transport. Thousands of horses were used to pull field guns, and with six to 12 horses required to pull each gun, exhaustion became a major obstacle.
3. Looking after their welfare
War horse welfare became a major part of the war. Vets treated 2.5 million horses over the course of WW1, and 2 million recovered and were returned to the battlefield. A typical horse hospital could treat 2,000 animals at any one time, and the task could be arduous – taking up to 12 hours to clean a horse and its harness.
As well as treating the physically exhausted and injured horses, the vets would also often encounter horses with mental distress. They noticed that well-bred horses were more likely to suffer from shell shock and be affected by the sights and sounds of battle than their less refined brethren, who could be taught to lie down and take cover at the sound of artillery fire.  
If you're enjoying this article why not take a look at...
4. They used dummy horses too
Horse carcasses were a common feature at the front, and often doubled as barriers for soldiers to shoot from. 
The French troops came up with a cunning plan to use hollowed-out dummy horses as observation posts. They made these dummies out of papier-mâché and built them large enough for a man to crawl inside and poke a gun through. Though the Germans soon caught onto what was transpiring when a French sniper was spotted climbing out of a horse, the method still grew in popularity and became a regular feature on the battlefield for the rest of the war.
6. Feeding the horses
Unsurprisingly, horse fodder was one of the commodities in highest demand during the war. Quaker Oats put in a bid to supply army horses with cakes made of oats and molasses, but this offer was rejected as it was too costly.  
Mules played a large part in the war effort. Want to find out more about them? Take a look at...
7. Warrior - the "horse the Germans couldn't kill"
The horse pictured in this painting by Alfred Munning was called Warrior, and he became well-known among the troops for his incredible story. He was victim to machine gun attacks by air and falling shells at the Battle of the Somme, buried under debris and stuck in mud at Passchendaele, twice trapped under the burning beams of his stables, and survived. No wonder that he was dubbed "the horse the Germans couldn't kill".
Warrior was born on the Isle of Wight, and served on the front line for the duration of the war after arriving on the Western Front on 11 August 1914, only returning to the UK by Christmas 1918. He lived until 1941, when he was put down, as his owner Jack Seely felt that the extra corn rations needed to keep the 33-year-old hero going could not be justified in wartime.
Warrior was posthumously awarded the Dickin Medal, regarded as the highest accolade an animal can receive for serving in military conflict. Previous recipients have included 32 pigeons, 29 dogs, four horses including Warrior, and one cat.
8. The loss of life
While it's tempting to focus on the heroic tales of individual horses such as Warrior, the harsh reality is that WW1 led to an enormous loss of life for horses, as the figures below show. 
For some horse owners watching this carnage unfold from the UK, the threat to their beloved animals was too much to bear: fearing their horses would face terrifying conditions at war, some of them put their animals down in order to let them have a good death, with an owner that cared for them.
9. Dorothy Brooke helps exhausted and hungry horses in the interwar years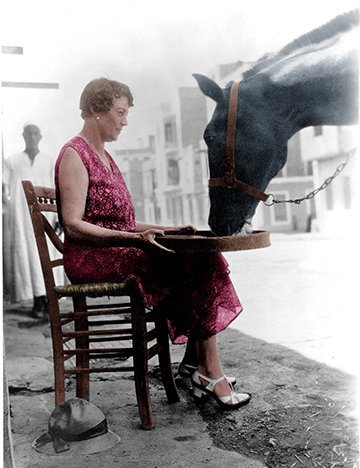 As World War II approached, many of the WW1 war horses bred in England that had been sold as surplus in Europe and Egypt were in a very poor state. They had been so overworked and abused they were practically skeletons.
Living in Egypt in the 1930s, Dorothy Brooke was moved by the encounters she had with these maltreated horses, and felt compelled to write a letter to the Morning Post to expose their plight. The response from the readers was overwhelmingly supportive - in fact they were so moved they sent her the equivalent of £20K in today's money to help end the horses' suffering. This led to her founding the Old War Horse Memorial Hospital in Cairo, and ultimately to the work that Brooke is known for today. 
Supporters still play a crucial role in Brooke's work - our success stories show the incredible changes that each and every supporter has enabled. If you'd like to get involved in this support, take a look at our fundraising ideas or make a donation today.  
Searching for surviving war horses became Dorothy Brooke's mission. Do you want to find out what happened to thousands of war horses after the war?
10. Horses in WW2
Due to advances in mechanisation there were far fewer horses used by the British Army in WW2 compared to WW1.  There are still horse stories to be told here though, from the plight of neglected horses that never made it back to the UK after WW1, to the concerns of horse owners as WW2 loomed, and the occasions when equids had the advantage over vehicles during the war.
11. Worried Horse Owners on the Home Front
The threat of World War II meant horse owners kept hold of their old war horses as they were concerned  their younger horses would be mobilised for the war effort and they would not be able to replace them. On the eve of WW2 there were still 311 British war horses alive in France, and along with the public outcry over the condition of horses left in Egypt, this would have heightened owners' alarm. 
MPs in the House of Commons did not want to see a repeat of what army horses went through after the last war. Government ministers gave assurances that no army animals would be sold, but instead would either be brought back to Britain or shot under military supervision.
There was also concern from horse owners about the plight of their animals in the event that they might be unable to care for them, with some household members away on duty or involved in the war effort at home.  This worry was not unfounded: at the beginning of World War II, a government pamphlet led to a massive cull of British pets, on the basis that there would soon be food rationing and pet food was a luxury the country could ill afford. Despite some calls in the press to reject this idea, the public largely went along with it and as many as 750,000 pets were killed in just one week.  
Image: 1939 Pamphlet - Air Raid Precautions For Animals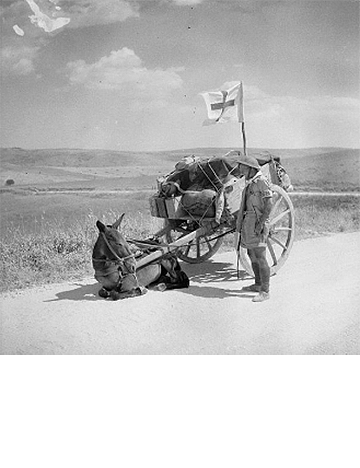 12. Where were horses used in WW2?
When it came to it there was perhaps less for British horse owners to be concerned about, as only a few regiments had need for horses. British troops in Sicily and mainland Italy utilised mules for transport, most of them sourced locally. There were some exceptions: the Sherwood Foresters infantry regiment, for example, when they relocated to Palestine in 1939, brought with them a thousand English horses. 
In 1942 the British employed 6,500 horses, a miniscule figure compared to the 2.75m and 3.5m used by the German and Soviet armies. Thankfully, for British horses at least, mechanisation had saved many of them from the terrible fate their predecessors endured in WW1.  
If you'd like to learn more about what makes equines unique take a look at...
13. How many horses, donkeys and mules died in WW2?
Unlike the 8 million figure for WW1, there is no definitive answer to the question of how many equines died in WW2. Estimates vary between 2-5 million.  We asked Caroline Baldock of Museum of the Horse, who in turn was able to draw on some expert historical advice from ex-cavalry officer Brigadier John R. Smales.  After taking into account the extensive use of horses by the German and Russian cavalry divisions, he estimates 3.25 million animals lost by those two armies alone.  When the other theatres of war are factored in, particularly the Mounted Brigade in Palestine, and the mules used in Burma and Italy, he arrived at a final estimate 3.5 million.  
Image: Horse and cart stuck in mud in Russia during WW2 | German Federal Archive
War Horses and the origins of Brooke
This short video tells the story of how the plight of war horses in WW1 led to Brooke becoming one of the world's leading equine welfare charities.  
PS. Don't forget to take our War Horse Quiz!