The Greatest Gift
This Christmas, the bond between people and their animals is more important than ever.
It's been an extraordinary year again, and for many it's been difficult. 
If you own an animal, you'll understand how the bond you have with them can be a unique comfort in difficult times.
Our new Christmas animation tells the story of a young girl who finds three new friends. With the magic of Christmas, Dinky Donkey, Harry the Horse and Molly the Mule come alive. But they need help.
It's up to Dorothy to pick them up, dust them off and give them the care they need. After she experiences the loss of her kite, the trio have the chance to give back. Together, they're healing each other's broken hearts. 
Like Dinky Donkey? Check out last year's Christmas animation 'Little Christmas Helper'.
Healing hearts in the real world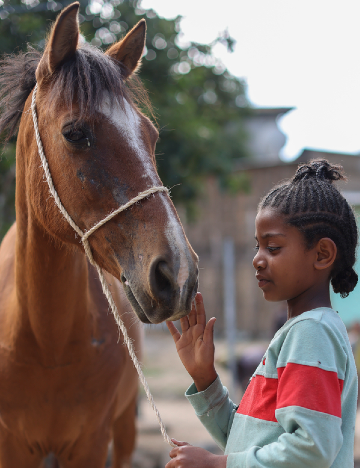 In our work, we see working horses, donkeys and mules facing incredibly tough lives caused by the work they endure. This struggle is shared with owners, who face difficult lives themselves, working all the hours they can to stay just above the poverty line.  
Like Dinky, Harry and Molly, working animals around the world suffer from broken bodies and broken hearts without someone to care for them.
Working horse and donkey owners often have close bonds with their working horses, donkeys and mules, but lack the knowledge and skills they need to provide good welfare. We believe that championing compassion and providing training builds better futures for animals. We help owners improve their understanding of both the physical and emotional needs of their animals.
By healing broken hearts as well as bodies, we can create healthy, happy lives worth living for working horses, donkeys and mules. 
Do you want to help us create a life worth living for working horses, donkeys and mules around the world?
Share our Christmas animation to spread the word.