Annette Badland represents Brooke at Animals in War Memorial service
Brooke was represented by Ted Lasso actress and supporter, Annette Badland, at the Animals in War Memorial Remembrance Gathering in Hyde Park, London on Friday 10 November. 
Other animal charities including Dogs Trust, RSPCA, Blue Cross and The Japan Animal Welfare Society attended the Park Lane memorial, to honour the brave animals that served and sacrificed themselves during human conflict. A retired military dog, cavalry horses and a pigeon from the Royal Pigeon Racing Association also attended the event, which marks 80 years of the PDSA Dickin Medal - the highest award any animal can receive whilst serving in military combat. Also amongst guests were award-winning author and journalist Jilly Cooper, and Last Tango in Halifax star, Sir Derek Jacobi.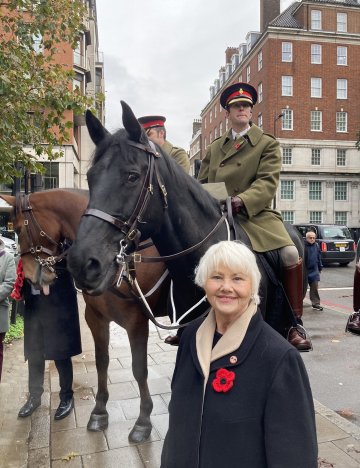 Annette Badland said: "I'm so proud to lend my support to such a moving event. It's so important that we come together to reflect on the courage of millions of horses, donkeys and mules who served alongside our soldiers. Today, these animals are still a vital lifeline for many communities around the world, and deserve respect and kindness."
Eight million horses, donkeys and mules died in World War I, and most who survived never returned home and were instead kept overseas for hard labour. In 1930 when Brooke's founder, Dorothy Brooke, discovered thousands of former British war horses suffering in Egypt, she decided to establish the Old War Horse Memorial Hospital to ensure they were treated with care, respect and compassion.
Today, Dorothy's work has evolved into Brooke, dedicated to improving the lives of working horses, donkeys and mules and those that depend on them. 
Each November, Brooke encourages people to get involved in Every Horse Remembered Week (6-11 November) to honour the heroic war horses of the past, and give the millions still suffering a life worth living for generations to come.