Brooke celebrates success at OIE World Assembly
A Brooke delegation has recently returned from the 87th World Assembly of Delegates of the World Organisation for Animal Health (OIE). Through partnership work Brooke has contributed to improved standards of paraveterinary profession across 182 countries.
Nearly 900 participants, including Chief Veterinary Officers and animal welfare focal points from 182 OIE Member Countries as well as 21 Ministers and Vice Ministers, participated in this event.
The Assembly saw a launch of the OIE Curricula Guidelines for Veterinary Paraprofessionals, the first ever global guidelines of this type. The document provides guidance on training curricula necessary to deliver the competencies (defined by OIE in 2018) that veterinary paraprofessionals need to do their job properly. Brooke is proud to have contributed to the development of these guidelines as a member of an ad hoc group at the OIE.
We are delighted to have contributed to this important document that has the potential to shape the future of the paraveterinary profession worldwide. In the rural communities that Brooke works in, we see paravets filling an important gap in healthcare provision and disease surveillance.

Yet, they often lack the training, resources and professional recognition required to do their job well. These new guidelines will help to standardise training and push for improved quality of care, benefitting animals and the communities that rely on them.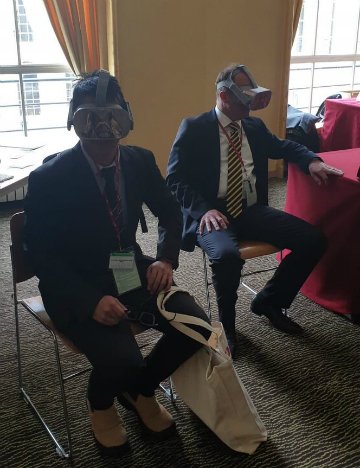 The Brooke team used the event as an opportunity to engage policy influencers on issues of utmost importance to research, advocacy, animal health and welfare across Africa, such as the donkey hide trade and the equine influenza outbreak, and in relation to Asia, the brick kiln industry.  
A particular highlight was a showcase of Brooke's Virtual Reality (VR) film illustrating life in a brick kiln in Pakistan. Over 200 delegates took an immersive dive into the harsh reality of the kiln, where humans and animals work side by side.
Brooke attended the OIE Assembly as part of the International Coalition for Working Equids (ICWE) and the International Coalition for Animal Welfare (ICFAW). Working together with partners, we are able to strengthen our voice advocating for animal welfare at important international fora such as the OIE.
As part of its ongoing engagement with the OIE, ICWE provides training to senior veterinary personnel in OIE countries. Following a successful working equid workshop in Lesotho last year, the coalition will hold another workshop in Brazil this autumn, with further plans being discussed.