A statement on Afghanistan
Earthquake in Afghanistan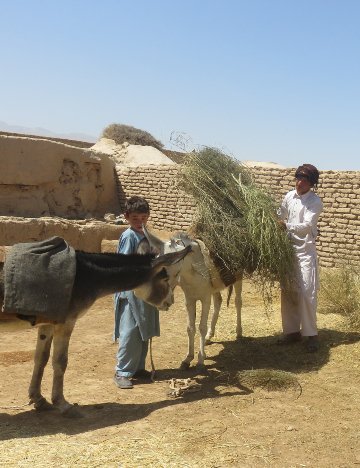 We are deeply concerned about the impact of the earthquake that struck Paktika province in Afghanistan, close to its border with Pakistan, on Wednesday 22 June. Our thoughts and deepest sympathies are with the people and animals affected.
Communication following the earthquake is very difficult, but we believe that all areas where Brooke has funded activities are beyond the reach of the earthquake's impact.
We are aware that the Disasters and Emergency Committee are assessing the situation and considering how best to respond. They will be able to draw on funds raised by their ongoing Afghan Crisis appeal as part of that response.
Update - 24/08/21
Brooke continues to support our partners Afghanaid and the Dutch Committee for Afghanistan (DCA), who are working on the ground to deliver emergency assistance to families in need and continuing with vital Brooke-funded field work, supporting working horses, donkeys and mules and the livelihoods of their owners.
Following last week's statement, the situation in Kabul has escalated and the environment remains tense and volatile. As such, Afghanaid have temporarily closed their office in the city and staff are working from home. However, a number of provincial and district offices remain open to support remote rural communities.
DCA offices also remain open and staff working on Brooke projects are adapting fast to ensure continuity, following the UN Joint Principals guidelines for working with the new regime and attaining formal permission to continue activities. For security reasons, however, women are no longer visiting communities.
Whilst DCA sees no increased risk to staff due to the nature of their work, there is a general high level of risk to people living in Afghanistan and DCA is supporting any of their staff who have requested assistance with visa and resettlement applications. Brooke will support the applications of any staff carrying out Brooke projects.
Our thoughts are with every person and animal affected by the immense upheaval in Afghanistan at this time. As ever, the safety and security of staff is our highest priority and we remain in constant contact with our partners to provide assistance.
16/08/21
As events unfold in Afghanistan, our thoughts are with all people and communities struggling at this time of great uncertainty.
Brooke funds crucial work improving the lives of working horses, donkeys and mules in Afghanistan, strengthening agricultural livelihoods and improving livestock care. We work primarily with the Dutch Committee for Afghanistan (DCA), since 2008, and also more recently with Afghanaid, since 2018.
Where possible, both organisations are continuing to work with communities whilst monitoring and responding to the situation. They will only stop work if necessary. At the local level, some projects have been able to continue, but others have had to be interrupted.
The safety and security of staff is our highest priority and we have asked DCA and Afghanaid that any Brooke funded work be suspended if there is a risk to anyone.
We are in constant contact with both organisations and will continue to support them wherever needed.