Q&A: Dr Naseer Darwish, Afghanistan facilitator
Afghanistan is a challenging location to work in, but Brooke has been committed to helping the country's 1.7 million working horses and donkeys since 2008.
Brooke works in partnership with the Dutch Committee for Afghanistan (DCA), which trains paravets to improve veterinary services for working horses and donkeys.
Dr Naseer Darwish, a facilitator at DCA, explains what it's like to work to improve the welfare of Afghanistan's equines.
Can you describe the daily realities of living and working in Afghanistan?
Most Afghan people are living day to day trying to find enough money just to live. It is especially hard for people living in rural villages and using animals for work. No one is safe. No one knows when a suicide attack or bomb will happen. Sometimes animals and owners face danger from landmines when collecting bushes in the mountains, but this is less common now. For the DCA team, we are working on sites where there is good security but nobody knows when a sudden security situation might happen.
What is it like for working equines in Afghanistan at the moment?
Equine owners are very, very poor. They rely on equines to earn money and help their families, but the equines also cost money to feed and treat when they're injured. They don't want to or can't spend money on their animals as they don't have enough. That's a big problem, for the owners and their families and also for us, because when we give advice on feed, building shelters, how to repair harnesses, etc., they will tell us they can do these things but often they will be unable to because of money. Another big problem is the general situation in the provinces of Afghanistan; bribes are common, hospitals are very costly, and there is a lack of work for owners.
What are the biggest welfare issues you encounter with working equines in Afghanistan?
The big problem comes down to the economy because the owners want more work from their equines because they want to earn more money. If an animal works 16-18 hours a day, how can the welfare ever be good? Many donkeys are involved with collecting bushes from the mountainous area to sell in the towns. They usually set off at 2-3am and they're not back until 2pm and then they have two hours travelling to the town to sell to the customers.
The owners want to carry more bushes or wood to earn more money, but this causes welfare issues due to overloading, wounds and falling from exhaustion. During this time, there is also no water, as the bushes grow in dry areas - the owners carry a little water for themselves, but they don't provide any water for the donkeys. It is hard for us to solve the problem, but every problem has a solution I think.
What has helped you overcome some of these challenges?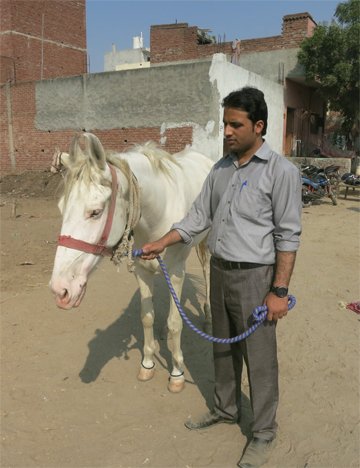 Making good engagement and communications with the communities, stakeholders and local service providers – sometimes we have challenges but usually we can solve them. More innovations would help us, identifying the problems and then making innovative solutions. We have made good relations with the Ministry of Agriculture, Irrigation and Livestock, which makes our work easier. We have also started to involve more stakeholders, such as Imams (religious leaders). It's useful because our society is a very religious society and people have trust with the Imams and never deny them talking; accepting what they say from the bottom of their hearts.
How difficult is it to access specialised equine training in Afghanistan?
In Afghanistan, no one outside of Brooke is an equine specialist. I want to learn more about equines and equine veterinary subjects but there are not many opportunities. We just have a few topics in our university faculty that touch on equines, most of the course is focused on domestic animals like cows or sheep. Because equine animals are neglected animals, especially donkeys, no one wants to pay attention to them, even at the universities. I think it's customary that nobody likes donkeys. For example if someone fights with another, they might call him 'a donkey' as an insult. No one pays attention to these animals except Brooke.
The security conditions in Afghanistan are difficult, which is why we travel to other Brooke programmes to receive training. After training, we can transfer the skills we have learnt onto our colleagues and we also share our training with paravets when we return to Afghanistan.
Afghanistan
Afghanistan has the twelfth highest density of working horses and donkeys in the world. Many are vulnerable, working in difficult conditions, pulling and carrying heavy loads in brick kilns and urban areas.