Brooke vet an inspiration at RCVS
Dr Ebony Escalona was the guest speaker at Royal College of Veterinary Surgeons day on 7 July 2017.
Royal College Day is the annual celebration of achievements within the veterinary and veterinary nursing profession and this year's theme was on the global profession, career diversity and innovation - a perfect framework to showcase Brooke ways of working.
Dr Ebony Escalona was invited by the outgoing President Chris Tufnell, a horse vet and avid working horse charity supporter. Ebony's talk entitled "Jump outside the veterinary box:  widening our horizon" drew on her experience at Brooke as well as within the wider veterinary profession to highlight both the importance of working to your values and the varied ways that vets can all contribute to and learn from a One Welfare approach.
I value Brooke because we think out of the veterinary box. We widen the horizons for working horses - empower communities and develop systems where animals and owners can thrive without Brooke support. Because at the end of the day who is ultimately going to give an animal a good life?
Using case studies Ebony took the 200 strong audience through examples of peer-to-peer inspiration, the importance of role models, the influence of community empowerment and the need to harness innovation. 
Ebony remarked that role modelling is something all of us do every day whether we realise it or not: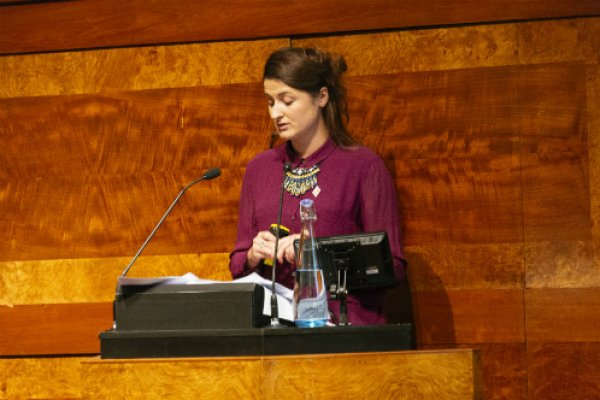 "Role models come in all shapes and sizes and we [Brooke] strive to promote leaders without a title. From vets and street farriers to the children who grow up with horses in their homes supporting their families. The power of this can be quite remarkable, especially when it comes in the form of a taskforce of children volunteers!"
Here she bought to life the example of children groups who use traffic light system welfare assessment in Afghanistan that help shape a whole village's attitude to animal welfare. 
The father of an eight-year-old volunteer child in the Village Mir Khail-Kabul said: "Rafi keeps forcing me to treat the wound on the back of my donkey and warned me that in case he again gets the Red mark (traffic light), he will not help his mother with the house works." 
Innovation was high on the agenda on the day and RCVS president Chris Tufnell addressed this in his speech: "As a profession, we are great innovators and so many practical solutions to problems in practice come from within the team.
"However, the pace of change with regards to technology is outstanding. The technologies that I have seen will enhance animal health and welfare and improve our ability to deliver it. But, it is not technology that is innovative on its own. Advances in technology enable innovative business models, and it is these that we as professionals need to seize if we are to remain in the centre of animal health and welfare."
Ebony also talked about her collaborative new project to aid healthcare training in the field through the Brooke Innovation Fund. This project, in conjunction with the tech charity Learn Appeal and vet Sophia Salmon (previous Brooke vet), provides interactive equine health e-learning to anyone with a smartphone even where wifi and power do not exist.
Ebony asked the audience to use their skills and ideas to help shape improvements for working horses' lives across the globe.
Working within a global team at Brooke has also inspired Ebony to help the veterinary profession by setting up an online support forum for career opportunities and diversification. A number of vets who work at Brooke have showcased how their veterinary background can contribute to many different roles within and outside of the profession.
This forum highlighted opportunities we have on the theme of one welfare, the notion that human and animal welfare is intrinsically linked. Shining a light on role models and peer-to-peer inspiration is what makes solutions possible.
The talk was given to a huge cross section of the veterinary profession from students through to professional bodies and charities that Brooke has partnered with in the past.
The talk concluded to great applause and after the session many thought provoking conversations and connections were made to expand the professions support to the charity such as that from student bodies, business owners and professional bodies.