Booke Parade at Olympia, the London International Horse Show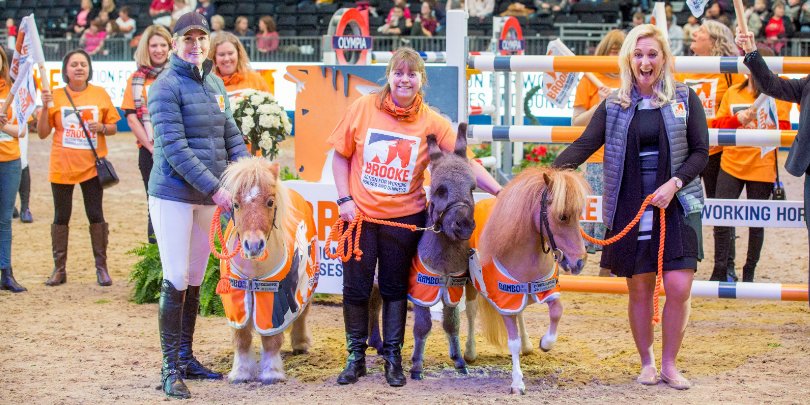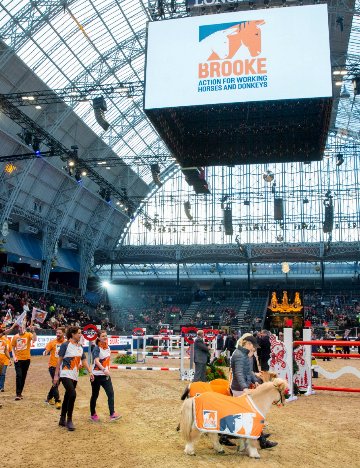 As official chosen charity of Olympia, the London International Horse Show, equine welfare charity Brooke took to the arena for a special interval performance on Wednesday 19 December. Brooke Chief Executive Petra Ingram led a procession of orange t-shirts made up of Brooke staff, and equestrians Gemma Tattersall and Laura Renwick. Laura later competed in the Puissance with Top Dollar VI, jumping clean up to the fourth round but electing not go go further. Radio DJs Aimee Vivian and Lilah Parsons joined the crowd, and later joined Harry and La La the miniature Shetland ponies, and Alfie the miniature donkey in Olympia's Live Zone. Brooke Ambassador Richard Waygood and eventing legend Jane Holderness-Roddam also joined in the arena. Anthea Turner, a long time Brooke supporter, addressed the crowd. 
The performance provided Brooke with a chance to say thank you to all those who have supported the charity over the years. 'Dinky donkey', Alfie, stole the show, and has already been drawing crowds at Olympia and on Brooke's social media, as well as taking part in the nativity themed finale each day. 
Whilst the procession continued to wave flags, Anthea introduced a short film about Brooke's work across the developing world.
You can find out more about Brooke's work by visiting the team upstairs in the Gallery at stand G181, where visitors have the opportunity to view Brooke's virtual reality 360° film captured within a Pakistan brick kiln. Brooke is also in the Shopping Village at stand B41, where visitors can buy merchandise with money going towards improving the lives working equines and the people who depend on them.