Animals, people and the environment - a workshop on brick kilns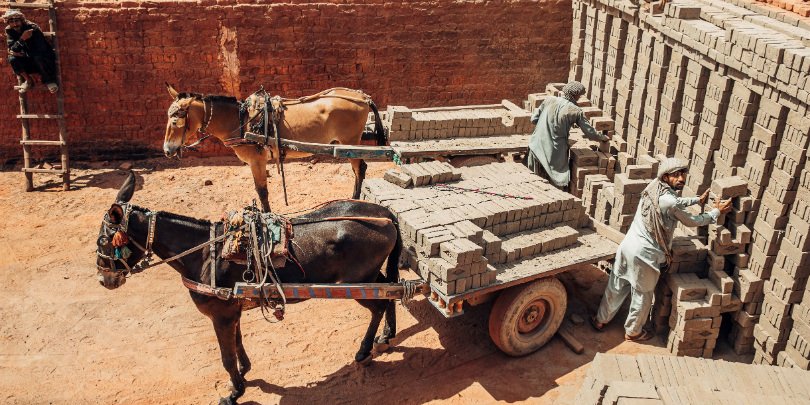 Last week, Brooke co-hosted a workshop in Kathmandu, Nepal on 21 and 22 November to bring together organisations to tackle welfare issues in South Asia's brick kilns. Brooke co-planned the 'South Asia Regional Workshop on Environment, Child & Bonded Labour and Animal Welfare in Brick Kilns' with our colleagues at The Donkey Sanctuary, in partnership with the South Asia Initiative to End Violence against Children (SAIEVAC).
The traditional brick kiln industry is the backbone of urban development throughout South Asia. It employs millions of people, including children, who are often bonded into labour. They work side by side with millions of horses, donkeys and mules in hazardous conditions. The kilns themselves produce black carbon and other emissions harmful to the environment. With thick dust, temperatures of up to 50°C (122°F), and very little shade, people and animals suffer from breathing problems, injuries and malnutrition. The families often have little access first aid for them or their animals.
The meeting brought together representatives from different organisations, including Action Aid Nepal, The Global Fairness Initiative, International Centre for Integrated Mountain Development (ICIMOD), Animal Nepal, International Labour Organisation Nepal, WWF Pakistan and IUCN Pakistan, as well as our own partner in Nepal, AHTCS. Most importantly, the Brick Kiln Owner Federations of India, Pakistan and Nepal attended and shared commitment to work with the forum.
By the end of the two days the group drafted a vision statement and identified areas for change, and key organisations from each sector and country who are going to join the forum were identified. This built on the work done by Brooke, The Donkey Sanctuary, SAIEVAC and the International Labour Organisation in 2017, where we launched the 'Brick by Brick' report and held a conference in Pokhara where high level early regional commitments were made.
On the second day of the workshop, the group focussed on how the new collective of organisations could push forward and keep momentum in over the next year. This resulted in a 12 month roadmap of short and long term activities.
Naeem Abbas, Brooke Pakistan's Advocacy Manager, caught up with Dr Rinchen Chopel, Director General of SAIEVAC, after the workshop:
Life in the brick kilns
Brooke has captured what life is like in brick kiln in Pakistan through a 360° video that will be shown to participants at the event. It follows a young couple, Waqas and Tayyba, who live and work on the site of the kiln with their baby Sania Fatima and relying on their horse Raju for work. Waqas and Tayyba work alongside 50 families employed to produce 45,000 – 50,000 bricks a day. There is pressure to overwork themselves and their animals, but Waqas and Tayyba know that overworking Raju can cause injuries and exhaustion, and if he can't work, their family will suffer. Through guidance from Brooke vet officer Dr Sabira Nazir, they've learnt about animal care, preventing injuries and illness, and how to provide adequate water and food.
A full report from the workshop is being written up, so check back soon for further updates on how the forum will formalise plans to improve lives for people and animals in brick kilns. 
Supporters can also view the 360° film at Olympia International Horse Show, where for 2018 we have been chosen as official show charity. Find out more