Heal broken hearts appeal
Join our campaign to heal the broken hearts of horses, donkeys and mules working in some of the world's most deprived countries.
Over 100 million working horses, donkeys and mules work in harsh conditions to provide for their families every day.
Lack of training
Their families are doing their best, but it's hard to care for their animals without trained farriers or vets.
No access to food
These loyal animals work hard every day to provide for their families, but their owners struggle to provide them with food or water.
Broken hearts
Without the essential care they so much need, their hearts are left broken and so are their bodies.
Nowhere to rest
These hard-working horses, donkeys and mules struggle without the space they need to rest.
HOW YOUR SUPPORT HELPS TO HEAL BROKEN HEARTS
We aim to improve the lives of working horses, donkeys and mules – both now and in the future. Last year, 1.4 million were animals reached across Africa, Asia, Latin America and the Middle East.
A healthy donkey needs around 2-3kgs of forage a day. We help owners to grow suitable feed for their hard working donkeys.
The first farriery school outside of Europe and North America established in Senegal. We train local farriers to provide welfare-friendly hoof trimming and shoeing services.
We train owners to fit pain-free and comfortable bits. Children are taught how to look after their animals at Donkey Care Clubs to create long lasting change.
Like people equines need time to rest with their friends, enjoy good food and have access to quality health care to keep them happy and healthy.
WHY CHOOSE BROOKE
Global leaders for working equines
We are the leading global welfare charity for working horses, donkeys and mules.
Over 85 years of equine experience
From a hospital for ex-warhorses in 1934, we've been here for equines for more than 85 years.
Present in 7,000+ communities worldwide
We understand the huge interdependence between working animals and their communities.
Sustained and resilient communities
We help the communities we work with to thrive and become more resilient.
Testimonials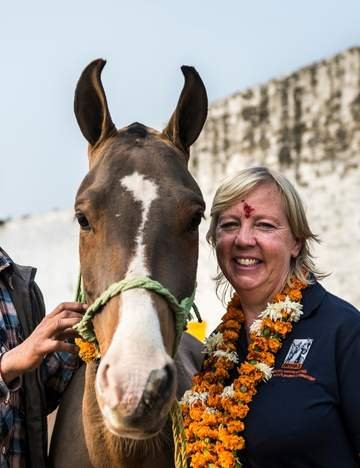 I know too well that by supporting Brooke I am helping to bring the lasting change for equines that I want to see. I know Brooke cares about working animals and their communities.
- Deborah Meaden
Our supporter Deborah enjoys the opportunity to give something back to the animals she cares about so much.