Donkeys play a central role in Afghanistan life
Brooke research shows the importance of donkeys in the lives of the people in Afghanistan.
Afghanistan's economy is largely based on agriculture and livestock production. There are 1.7 million equids, of which 92% are donkeys. Working donkeys play an important role in the livelihoods of poor communities in Afghanistan. However, to date, the role and economic value of working equids have received little attention by the government.
Since 2008 Brooke has worked in partnership with DCA Livestock Programs to improve the welfare of working equids in Afghanistan. We're doing this by enhancing skills and improving the quality and sustainability of veterinary services.
In 2016 Brooke collaborated with DCA to research and quantify the role and economic contribution of equids to people's livelihoods in two provinces in Afghanistan.
What our research involved
The participants of 40 focus group discussions were asked about how they use animals, including donkeys, horses, chickens, cows and camels, and to estimate the value and contribution of each species to everyday life.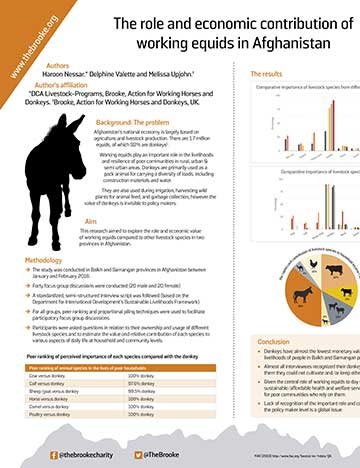 What we discovered
Out of all the animals, donkeys were used the most for activities including transportation of people. They also assist their owners considerably with household chores such as ploughing, delivering fuel for households, and delivering goods to market. Interestingly, donkeys were reported to be the primary animal to provide companionship.
Despite donkeys playing such an important role in people's lives, they were reported to have a low monetary value compared to other animals - for example, camels.
In March 2019, this work was presented at the 7th Pan Commonwealth Veterinary Conference, where acclaimed veterinarians and academics came together from all Commonwealth and non-Commonwealth counties to share and learn.
For more information, download the poster for the presentation