TV Vet More4's Dr Scott Miller Backs Charity Dog Walking Campaign
Dr Scott Miller, vet and star More4's Vet on the Hill has been announced as the face of The Dog Walk Challenge, set up by UK based international charity, Brooke Action for Working Horses and Donkeys.
The challenge is to walk 10,000 steps (or with a smaller dog set your own daily goal) each day with your dog for a month, and raise money for vulnerable working horses, donkeys and mules. Over 100 million of these animals are a lifeline for around 600 million people across the developing world, helping them to transport food and water, and earn a living to provide for their families. Sadly though, animals are suffering from injuries, disease and malnutrition every day. The Dog Walking Challenge is a perfect way for dog walkers and their four legged companions to help other four legged companions overseas.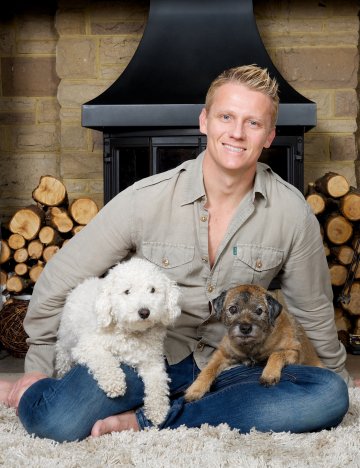 Scott has two dogs of his own, Betty and Skully, and was excited to support the challenge. He said: "I love this initiative. It's very important for dogs and their owners to walk every day to keep up good physical and mental health, and if at the same time you're helping to improve the lives of other animals, it's a win-win."
It also ties in with Brooke's 2018 campaign, Every Horse Remembered. This marks 100 years since the end of WW1, where millions of horses and thousands of dogs gave their service and, tragically, in many cases their lives, to the cause. 
Scott has supported Brooke for a number of years, and joined their teams in Pakistan in the aftermath of the 2005 earthquake. Brooke provided relief for 50,000 animals that suffered injuries from falling rubble, and other medical emergencies caused by lack of shelter. Scott helped them build temporary shelters and provide emergency treatment. 
Brooke's regular work focusses on working with owners, communities, service providers, governments and international organisations to improve animal welfare.
"I'm particularly passionate about Brooke's work on the ground, building the capacity and skills of local vets and health providers, and showing communities that small changes like shelters and regular farriery can make huge improvements to their animals' health." 
"It can be difficult for some people and some smaller dogs to get up to this distance each day, but if you'd still like to do some walking for Brooke, set your own distance that feels like a good challenge for you and your dog."
You can choose to do 10,000 steps for 30 days or 10 days. To get on the road with your dog and support Brooke, go to www.thebrooke.org/dogwalk and sign up.