How can understanding pain improve a donkey's life?
September is Animal Pain Awareness Month, and this year Brooke explores how owners can help improve the lives of their donkeys by understanding emotion and pain. 
Around the world, donkeys work tirelessly to support their owners in some of the most challenging environments. Donkeys play a powerful role in supporting human living standards by improving access to water, food, transport, health and veterinary services. Without them, millions of families in low- and middle- income countries would struggle. 
Strong bonds between working donkeys and their owners are essential, leading to a mutually positive, long-lasting sense of wellbeing. However, owners can often fail to fully support the welfare of these animals, meaning they can be overworked, overloaded and underfed.  
Recognising pain
Donkeys typically do not show pain easily, but feel it just as much as other species. They can also experience physiological or behavioural changes, as they attempt to reduce the pain they are experiencing. 
Signs of pain can include:
Sweating

Ears back and down 

Restlessness

High heart rate

Anxious expression 

Teeth grinding

Reluctance to put weight on certain limbs

Tight facial muscles

Muscle tremors

Flared nostrils

Laying down more.
Identifying pain improves donkeys' lives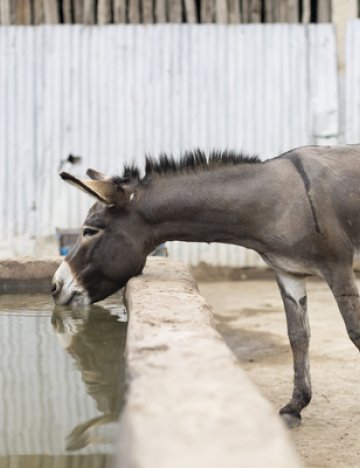 In a recent study, it was found that one of the most powerful ways to improve the welfare of working donkeys is for owners to recognise their animals' own emotion and pain. Owners who identify their donkeys' ability to feel are more likely to use practices that promote positive animal welfare - particularly in challenging work environments. 
Skills in empathy were also found to be closely linked with how owners perceive donkeys' emotions. Identifying emotion and pain can therefore influence how working animals are treated around the world, and in doing so give them a life worth living. 
From their work in brick kilns and coal mines, to fetching food and water for entire communities, positive human-animal relationships lead to social and economic mobility, creating change for the better. 
Kimberly Wells, Senior Manager of Brooke's Global Animal Welfare Department, said:
"Although animals cannot speak, they tell us what they experience in many ways. At Brooke we advocate that working horses and donkeys are seen, heard and responded to. We are building a shared understanding about equine emotions and behaviours across our global programmes. 
"Our approaches with community and healthcare workers in low- and middle- income countries provide the opportunity to explain the concept of sentience, and how pain can affect animals' emotions and behaviour. These support our belief that animals are sentient and aim to empower individuals to 'listen' to working horses, donkeys and mules by observing their appearance, their behaviour and their physiological signs. 
"Only when we build an understanding of what pain looks like can we act on the short and long term response that animals need to experience a life worth living."
How does Brooke provide guidance in identifying animal emotion and pain?
Brooke's Animal Health Handbook - a guide for vets to deliver care that is safe for animals and promotes proper handling practices. This includes information on how and where to observe pain in working horses and donkeys, to provide appropriate pain relief. 
Animal Health Mentoring Framework (AHMF) - Brooke's list of essential skills and competencies required to provide good quality animal health services, for animal health practitioners. 
Animal Welfare Indicators - a resource with more than 40 animal welfare indicators that have been used by Brooke to assess animal welfare around the world. 
Farriery Mentoring Programme - Brooke's Global Farriery Project is supporting the farriery trade in developing countries, to make lasting improvements to animal welfare and ensure healthy and happy working animals continue to support communities. 
To learn more, visit Brooke's Animal Welfare and Health page.