The "mysterious" connection between humans and donkeys
This World Donkey Day, Brooke is celebrating the vital role that working donkeys play in improving people's lives around the world.
Donkeys are intelligent animals who work alongside their owners each day to help communities survive. They support with transport, food security, access to water, health and veterinary services. But why are positive relationships between working donkeys and their owners so important?
Understanding donkeys' needs
Donkeys are sentient, social animals who develop strong bonds with the people around them. Though often characterised as stubborn, donkeys are gentle in nature with a strong sense of loyalty and friendship that is similar to humans. This means that the more owners can interact with their donkey in a patient, positive and calm manner, the greater level of trust built. Studies have also shown that positive interactions, particularly with familiar humans, can often raise oxytocin (commonly known as the 'love' hormone) and decrease cortisol (the 'stress' hormone) levels in animals. Good handling techniques therefore allow donkeys to feel reassured, safe and respected by their environment, as they deserve.
Change for the better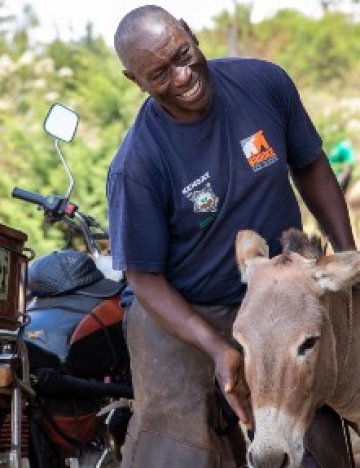 Strong bonds between working donkeys and their owners can help alleviate suffering and improve conditions within their community. The Farm Animal Welfare Committee (FAWC) have found that good working animal health and welfare has a strong link with productivity, and can have huge benefits for the surrounding environment. Millions of families in low-and middle-income countries worldwide rely on donkeys for income generating activities, like agricultural production, food security and daily chores. A powerful relationship between working donkeys and their owners, who work side-by-side in some of the most challenging environments such as brick kilns and mines, can be essential to supporting social and economic mobility.
Strong bonds between working donkeys and their owners result in positive wellbeing, for donkeys and owners alike. When these animals are treated with kindness and compassion, they give back through devotion and loyalty, and feel happy and loved. Their owners can build a unique connection with them, leading to long-lasting, positive human-animal experiences that promote a life worth living.
John the farrier
John Kiana Mbugua, a farrier from Nyandarua County in Kenya, believes there is a "mysterious" connection that is unique between humans and donkeys. Having trained as a farrier for eight years, John has helped over 4,000 donkeys in numerous farriery clinics across the region and is known by the nickname Tunza Punda: meaning "take care of the donkey."
"The donkey is an animal I truly love and this is because a donkey is an intelligent animal… (they) feel pain just like you can."
John was inspired to become a farrier after seeing the challenges that local working donkeys faced, such as tetanus and overgrown hooves. He "had the desire to at least learn what would stop these donkeys from experiencing this kind of pain". When John became a farrier, he was "overwhelmed by joy because, since that day to date there's no donkey I came across with overgrown hooves."
John said: "The first thing I learnt about donkeys, is if you call a donkey by his name, when he knows that that is his name, once you call that name regardless of where he is he must respond. Wherever donkey owners' call me from, I go and perform the job because it comes from my heart…Every morning I wake up is a donkey day!"
John credits donkeys for everything he has, including the ability to feed his family and two children attending university.
"A donkey has mysterious intelligence but the owner understands it best."