At Land Rover Burghley Horse Trials on 3 September 2016, Ugne Bubnaityte, star of the Great British Bake-Off 2015, awarded a prize for best carrot cake to Michelle Knott from Melton Mowbray for her Olympic equestrian inspired cake. The competition, organised by working horse and donkey charity Brooke in partnership with Land Rover Burghley, asked keen bakers to come up with an original carrot cake recipe. Three of the best took the final taste test on the cross country day at Burghley, and Michelle was awarded first prize, winning tickets to Burghley 2017, Pol Roger champagne and Chase Distillery gin.
Land Rover Burghley Horse Trials, is supporting Brooke's High Teas for Gee Gees campaign in 2016, which aims to raise awareness and funds by asking people to throw tea parties in aid working horses, donkeys and mules.
"I'm really surprised that I won, and I didn't even think I'd be in the final. I'm so happy to have been chosen as the winner."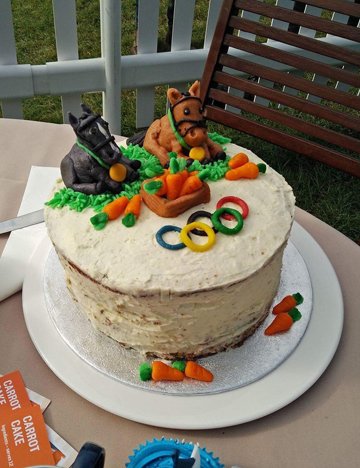 Michelle's cake (right) featured Valegro and Nip Tuck, the two most famous competitors from the Olympic Equestrian team.
The finalists will have their carrot cake recipes featured in the Brooke Burghley recipe book alongside baking tips and recipes provided by passionate supporters of the charity including Joanna Lumley, Alastair Stewart, Jo Brand, Wendy Turner-Webster, Rick Stein, Emma Milne, Gino D'Acampo and of course, Ugne Bubnaityte. The recipe book will be available to download on Brooke's website for a £3 donation, in National Baking Week, 17-23 October.
Ugne, who now runs ugnebakes.com and is soon to release a book on modern free-from and protein baking, was proud to support the campaign, saying:
"As well as baking, I also love horses and this campaign allows me to bring both my passions together. Horses in the UK have so much, and those animals Brooke helps have so little. Brooke helps horses, donkeys and mules who need it the most."
Brooke is a global charity that protects and improves the lives of horses, donkeys and mules that toil in some of the world's toughest environments. 100 million of these animals support the lives of around 600 million people in the developing world.
Petra Ingram, Chief Executive for Brooke said:
"It's been wonderful working with Land Rover Burghley Horse Trials this year on the Brooke Burghley bake off, and we'd like to thank them for supporting our High Teas for Gee Gees campaign. The lives of the horses we work with are vastly different from those taking on the cross country course, and we're working hard to make lasting difference to their lives."
Burghley Horse Trials is celebrating its 55th year. With over 160,000 visitors over the four days, more than 600 retail exhibitors and 90 of the world's top eventing competitors entered, it is one of the world's leading televised equestrian three day events.