Brooke vets honoured by Royal College of Veterinary Surgeons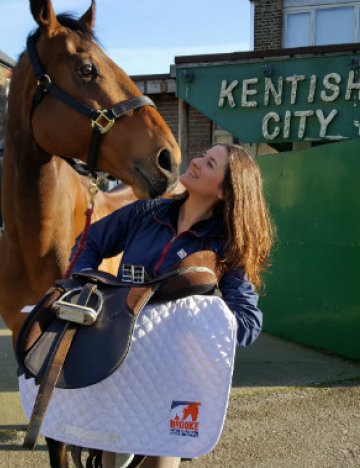 Brooke veterinary advisor Dr Ebony Escalona was honoured with the new Inspiration Award, which recognises those inspiring others with their actions and words. Ebony, who has worked at Brooke for four years, was recently announced as the face of London Vet Show, which runs from 15-16 November at Excel London. Her nominator, Dr Aurelie Thomas MRCVS, said: "Ebony has done more for the veterinary community over her eight-year career than many would over 20 years. Ebony's generosity, enthusiasm and energy for our profession seems limitless."
As well as providing support to Brooke vets around the world, Ebony founded a Facebook group; Vets: Stay, Go, Diversify which encourages veterinary surgeons to share their experiences and ideas. Ebony organised the inaugural live event in April. She is also spearheading a Learn Appeal project which provides access to basic veterinary, farriery and husbandry information through a mobile device to rural communities, but without the need for internet access.
Brooke Ethiopia's Dr AHM received the International Award. AHM leads Brooke's animal health programme in Ethiopia, which reaches almost 600,000 animals and has trained hundreds of animal health practitioners. Brooke's Global Animal Welfare Senior Manager Kimberly Wells, said: "He is an extremely professional, productive and valued member of Brooke – extending his technical and programmatic knowledge, experience and drive for impact to not only colleagues in Ethiopia but around the globe. Brooke's mission is an ambitious one and we in the UK are particularly comforted to know that impact lies wherever AHM leads."
AHM, who joined Brooke in 2007, has been instrumental in implementing Brooke's new Animal Health Mentoring Framework (AHMF), a list of essential skills and competencies required to provide good quality animal health services. The AHMF sees a change in focus for Brooke, whereby professionals such as AHM are now mentoring and training local animal health workers (vets and community based animal health workers). By allowing these animal health workers to identify and solve problems themselves, animals receive better treatment and recover more quickly. In turn, local animal health workers feel less reliant on Brooke services and more confident and better equipped.
To find out more about Brooke vets, how they train others and provide skills to other local service providers, click the links below.