Working livestock's vital role in sustainable development
An estimated 100 million working horses, donkeys and mules contribute to the livelihoods of many poor communities around the world, yet their contribution to sustainable development is largely overlooked. These animals are not reflected in the livestock policy around them, making them 'invisible livestock'.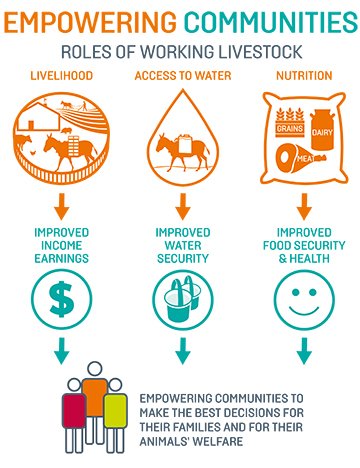 SDG1: No poverty
Working equids are a critical asset to their owners because they both directly and indirectly support income generation in agriculture, construction, extractive industries, tourism and transport.
Read: Empowering equine owning communities
SDG2: Zero hunger
Horses, donkeys and mules play a central role in agriculture and food production, including in soil tillage, producing manure fertilizer, and transporting - of feed and water for livestock and households, of goods to market and of livestock to health providers.
Read: Equine welfare group works the land
SDG5: Gender equality
Women across the world depend on working equids to support them with time consuming tasks such as fetching water. Income from working animals helps women pay for household essentials and can be a factor in gender empowerment.
Horses earn money and help us survive.
SDG6: Clean water and sanitation
Working equids are critical to providing access to water for communities and to all food producing animals. Without their help, people - especially women and girls - often have to walk for hours to fetch water from remote sources.
Read Bringing water to remote communities
SDG13 and 17: Climate action, partnership for the goals
Horses, donkeys and mules boost community resilience in the face of disasters and climate shocks. They enable communities to collect water or food from greater distances, helping families to relocate when needed, and even rebuild infrastructure.
SDG15: Life on land
Millions of people depend on the labour and income their working animals provide. However, the increasing demand for donkey hide products puts the long-term income of millions of families at risk. Brooke is also concerned this issue is a growing biodiversity threat in terms of the decrease in their numbers, threatening the ecosystem in which they exist.
Read: Demand for Africa's donkeys causing terrible suffering
When I delivered my daughter, I was able to pay for the Statutory National Health Insurance Fund through money earned by my donkey, which catered for all the delivery fees. My child eats, dresses and lives off income from my donkey.
see also