Equine welfare group works the land
Farming the land brings together a group of donkey owners and helps the welfare of the town's donkeys.
Donkeys in the town of Nakuru in Kenya are an important part of people's livelihoods. They mainly transport water for the construction industry, but can also carry firewood and other commodities in carts.
In 2013 the town's donkey owners, united by the twin aims of improving the welfare of their animals and obtaining a better income for themselves, formed the Ngondu Community Environment Group.
This immediately gave them more buying power as they were able to bulk buy donkey feed. It was also easier to arrange for local animal healthcare providers to visit, ensuring all the members' donkeys receive basic health care.
The group held monthly meetings and had regular training sessions from Brooke East Africa's partner - Farming Systems Kenya - in handling, feeding, carcass disposal, vaccinations, hoof care and harnessing.
Bringing the group together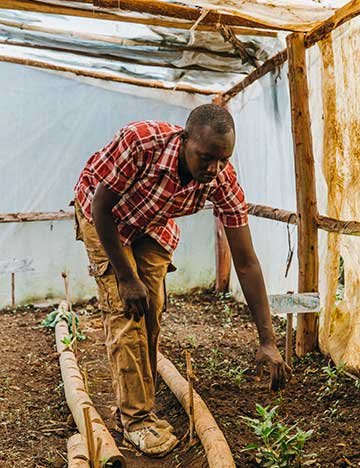 Apart from the monthly meetings, the group needed an activity to encourage members to come together more often, and decided that growing vegetables was an ideal solution. This would also provide food for their families and generate extra income.  
With no land of their own, they leased a small plot from the local government. They grew a variety of vegetables and herbs but their main crop was cabbages, which alone made 61,000 KYS (around £464) for the first harvest.
After six months they had made enough to lease two more plots. The group now has three plots over four acres, costing 10,000 KYS (around £78) a year.
In their greenhouse they grow herbs such as eucalyptus and cyprus, used for medicine, and Stevia, a sugar substitute. They also grow small shrubs to sell as houseplants and bamboo for furniture, planting them on the riverbanks to combat soil erosion and safeguard the rivers. 
The group meets once a week to tend to their vegetable patches and to informally discuss donkey welfare and any issues they have.  
"The farm encourages our members to come together. It looks beautiful and there's work to be done so the members want to come."
Food security for group members
The bulk of the harvest is taken to market, but not before the group makes sure their members have the first pick.
The Chairman of the group, John Mwangi, said: "I am happy I can access vegetables and food for my family. During the drought season, the demand is higher so the price is higher. It comforts me to know the farm is here."
Positive welfare changes for the donkeys
The older members of the group use their considerable experience of owning donkeys to mentor the younger owners: "Anybody who joins the group, we tell them what we have learnt from Brooke East Africa, Farming Systems Kenya and what we have learnt from experience."
One member, Jarom, is especially passionate about correct harnessing and balancing of carts: "If you make the load comfortable, the donkey will run with it." "I get very angry if I see someone mistreat their donkeys. I will ask them 'what are you trying to do?". 
We feel proud at what we have achieved and we are looking forward to doing greater things.
John Mwangi has seen positive changes: "I have seen a big change in donkey welfare since we started the group. The prevalence of donkeys with wounds has gone down. If a member of our group sees a donkey with a wound, they will show the owner how to treat it and explain the donkey needs a rest.
 "We feel proud at what we have achieved and we are looking forward to doing greater things."
Brooke is deeply concerned about donkeys being stolen and abused for their hides. Read about what we're doing and how you can help.