Women lead on equine welfare
In Samathal Village, women are establishing groups to increase their skills and knowledge of equine welfare.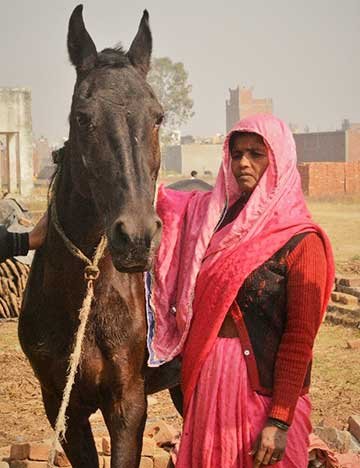 In many of the communities where Brooke India works, women are often the main carers of their family's working horses and donkeys. When Brooke India began working in Samathal Village in Uttar Pradesh, they met with equine owning families to help improve their knowledge of equine welfare. The women participated most at these meetings, already having experience of animal husbandry.
Keen to develop their interest in equine welfare, 11 of the women formed the Jyoti Women's Equine Welfare Group, with Brooke India providing support. 
One of the members, Bhagwati, (right) was pivotal in motivating other women and helped set up 12 more female-run equine welfare groups (EWGs). Brooke India again provided support, as well as training in first aid and good husbandry practices. The groups began saving regularly - INR200 (around £2) a month. All the groups undertook activities such as Participatory Welfare Needs Assessments, and subsequently became part of the Jag Equine Welfare Association.
[without] training in disease diagnosis and first aid treatment, I would have lost my horse.
When Bhagwati's own horse fell ill with colic, she was able to provide first aid until a Brooke-trained local animal health provider could visit and treat him. Fortunately, after some rest and care, he made a full recovery.
Bhagwati said, "[without] training in disease diagnosis and first aid treatment, I would have lost my horse.
 "I have taken a loan of INR 10,000 [just over £100] from our Jyoti Equine Welfare Group to provide treatment… and I would like to thank Brooke India team for facilitating the equine welfare group in our village".
Bhagwati has a prominent role in improving equine welfare in her community. The EWGs she has helped set up have accrued good savings and are now able to give loans to their members for treating and caring for their equines.