Brick kilns: a hidden industry
Donkeys, mules and horses work in traditional brick kilns - brick making factories - of India, Pakistan, Nepal and Afghanistan. It's notoriously a largely hidden industry, often unorganised and unregulated, where animals and humans endure the harshest working conditions with limited, if any, legal protection and rights.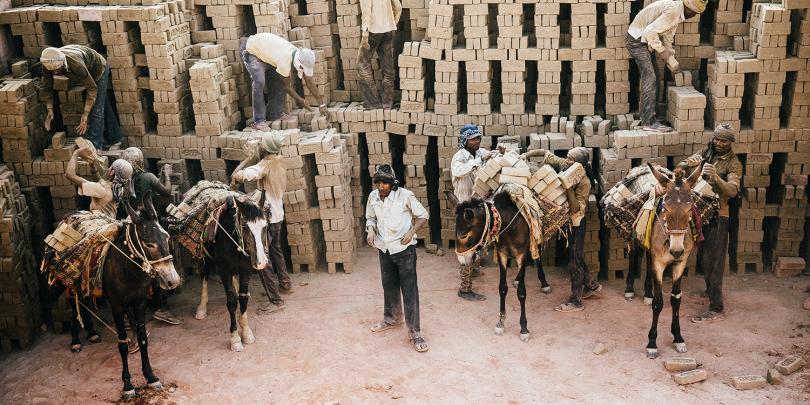 The bulk of the donkeys, mules and horses' work consists of transporting wet and dry bricks by cart or pack within the kilns and to external locations for use in the construction industry.
These animals carry many tonnes of bricks every day. They suffer from serious health and welfare issues caused by the environment in which they work, as well as by poor husbandry and management. Extreme temperatures, lack of shade, difficult terrain and overloading can cause disease and injuries. Wounds and lameness are common.
It really struck home what a tough environment it is here in the brick kilns for the animals and their owners, a stark contrast to the lives horses in the UK enjoy.
Emergency treatment, lasting change
In Pakistan, India, Nepal, Afghanistan and Egypt, Brooke teams offer emergency treatment and vaccinations, as well as advice on disease prevention. To bring about lasting change, we work closely with local service providers such as farriers, saddlers and cart makers which are often difficult for poor communities to access.
"It really struck home what a tough environment it is here in the brick kilns for the animals and their owners, a stark contrast to the lives horses in the UK enjoy," says Brooke Ambassador Major Richard Waygood MBE. "The people however, have a huge amount of pride in their animals – this can clearly be seen by the way they have welcomed Brooke into their communities and are embracing the advice given."
At a glance
Number of brick kilns we work in
Afghanistan: 870
India: 3,245
Nepal: 67
Pakistan: 256
Number of animals working in brick kilns
Afghanistan: 6,900
India: 380,000
Nepal: 2,000
Pakistan: 115,000