Improving healthcare for working horses and donkeys
We train animal health professionals such as government and private vets, paravets and community animal health workers, to improve services available for horses and donkeys. We also work with owners to encourage uptake of these healthcare services when animals require treatment or preventative healthcare.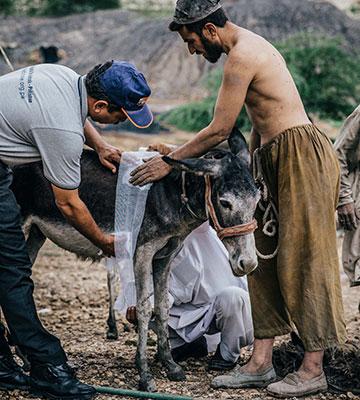 Historically, Brooke's healthcare work focused on providing free veterinary treatment for horses and donkeys. Our approach has since evolved as free provision can undermine existing local healthcare providers and private healthcare systems. It limits the number of animals benefitting from our work.
To address these issues, we now work to strengthen existing healthcare systems through training, mentoring, quality monitoring and linking up to reliable local suppliers of medicines and equipment. This makes the most of existing animal healthcare infrastructures rather than introducing a new system.
We also work closely with owners to enable them to care for their equine animals and avoid preventable disease and injury through good practices as well as providing basic first aid.
It is vital, however, that owners know when to seek professional help and which people will provide the best quality care for their animals. This approach makes improvements to the lives of working horses and donkeys that can be maintained long after we have left an area.
By making these sustainable changes to animal welfare in communities, more time and resources can be spent in new communities, increasing the numbers of animals that will benefit from our work.