How Meetu the donkey found his happy place
Working in a brick kiln is hard for mother-of-five Rafia Arshad, but having Brooke-trained paravets and community advisers on her side makes it that bit easier.  
Introducing Meetu the donkey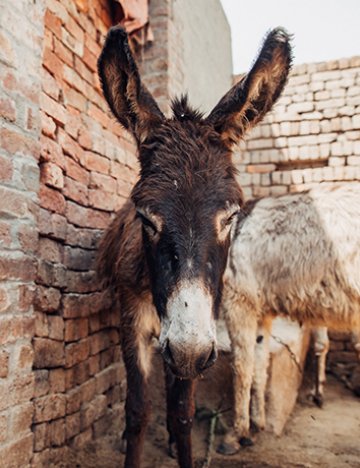 Meetu is an 8-year-old donkey who lives and works with his owner Rafia Arshad in the Maliktariq brick kiln just outside of Lahore, Pakistan. Meetu's working day can be hard going. He carries raw mud bricks to the kiln for firing in searing heat. It's no surprise that he is lethargic and depressed. 
In this story we will see how Rafia learnt new ways to care for Meetu so he is a much happier and healthier donkey.
Rafia is six months pregnant and has a difficult job in Maliktariq brick kiln. She is 28 years old and lives in a small shelter on the edge of the brick kiln with her husband Muhammad, her mother-in-law and their five children. Say 'hi' to Rafia!
4am start
Rafia's day starts at 4am when she wakes up and changes and washes the children. She then goes to feed Meetu green fodder from the nearby field and collects water for him from the pump to drink before making breakfast for her children, Muhammad and her mother-in-law. She then makes the chapatis for the family's lunch and they all go off to the brick kiln to work.
There are parts of Rafia's working day that can seem unimaginably tough going. She spends most of it making bricks in the kiln with her children, taking the babies with her and breastfeeding them whilst working. It can reach up to 50 degrees Celsius in the brick kiln with no shade for Rafia or the children as they gather mud and mould them into bricks for Muhammad to transport to the kiln with Meetu.
Health worries
The brick kiln owner lent Rafia 55,000 rupees (£346) to buy Meetu and he takes money from the family's weekly salary to pay off the loan. But Rafia worries about what would happen if Meetu became very ill: "If my donkey dies we will have to borrow more money to buy another donkey and my family will be in more debt," she says.
So it is a comfort that the Brooke-trained vets and community advisers have given her the knowledge needed to keep Meetu in good health.
Meetu used to frequently suffer with colic until Rafia started attending Brooke's women's community sessions. And if Meetu does get sick Muhammad calls the Brooke trained paravet to come and treat him.
"Now I know in my heart how important it is to keep my donkey healthy. When I wake up in the morning I care for him first before my children because I know if my donkey is not happy he cannot provide for my family. If I have no donkey I have no life."
Making a good life for Meetu 
During the summer months Rafia finishes making bricks at midday and brings her children home and out of the heat so they can rest. Muhammad allows Meetu to rest and eat green fodder in the shade of his shelter so he does not suffer from heat stress. In the afternoon Rafia walks to the nearby field to collect food for Meetu's breakfast and more water for him to drink. She bathes him to cool him down and then makes dinner for her family.
Speaking about her experience with Brooke-trained paravets and advisers, Rafia reflects on how their presence has given her valuable knowledge that has led to a noticeably happier Meetu:
"My donkey used to be depressed and get colic a lot, but I have learnt from Brooke the importance of making sure he gets plenty of green fodder to eat so that he is healthy and happy."