How Brooke's Farrier Training Changed My Life
Farrier training with Brooke gave Fatou Toure an opportunity to forge a new path in life as the first certified female farrier in Senegal.
Fatou Toure - A Female Farrier in Senegal
Farriery is considered a 'man's job' in Senegal so, before training with Brooke, Fatou wouldn't even dare to touch a horse. But farriery training with Brooke changed her life. She now takes great pride in her work, providing expert care to the local horses and helping owners understand the importance of animal welfare.
Fatou reached out to Brooke and its partner ASPAE (Senegalese Association for the Protection of Animals and the Environment), who trained her and provided her with the tools of the trade. She spoke to us recently about the challenges and rewards that have come about on her journey to becoming a farrier:
"For me, there is no work exclusive to men or women. You have to believe in yourself 100%, know where you come from, where you work and its usefulness. Before this farriery training here at the stud farm, I worked in metal carpentry for 3 years. At first, it was difficult. But with time and learning, I came to see it wasn't that difficult. Now I can lift the foot of a horse, and work properly without any help, especially when it comes to shoeing."
For me, there is no work exclusive to men or women.
Helping Local Communities Care For Their Animals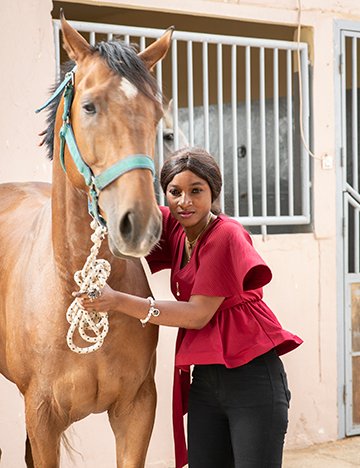 It is rewarding to see Fatou at work, how she is helping horses and inspiring others in her community to care for their animals too.
Brooke West Africa has long championed the importance of farriery within communities and has focused on providing training and mentorship. 
The Senegal government has recently approved an official accreditation in farriery thanks to Brooke, and Fatou now helps mentor a new generation of farriers and has supported the charity in its work to create this newly announced certification.  
What really gives me contentment are the horses from my neighbourhood that are brought to my house for trimming and the owners go back satisfied. It will also open the doors of the stud farms if they call on me.