Brick kiln community builds sustainable change
More communities are working together to make lasting changes to their working animals' welfare.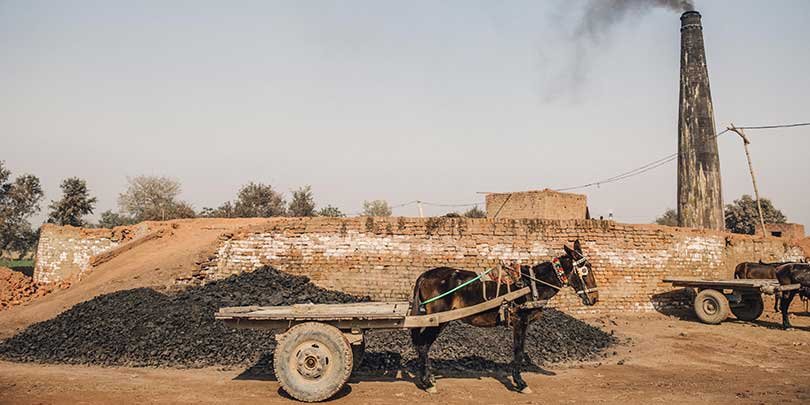 Situated 5 km north of Gujurat City in Pakistan, the Malik Safdar brick kiln has around 40 donkeys and four horses working from dawn till dusk transporting bricks.
When Brooke started work here in 2014, heat stress and dehydration were common. There was little shade or shelter for these hardworking animals, and a concerning lack of welfare awareness among their owners, who claimed, "These animals are very resilient […] so they can work for hours without drinking water and rest, unlike fragile human beings."
Shade and shelter
Brooke Pakistan's Community Equine Welfare Team (CEWT) met with the district manager, Dr. Muhammad Hayat Khan, to put an action plan in place - one aspect of which was the urgent provision of shade and shelter for the working horses and donkeys.
Arrangements were also made for community members to visit the Tariqabad community, where equine owners have already made improvements to the welfare of their working animals.
The Brooke team ran sessions with equine owners as well as the brick kiln owner to raise the whole community's awareness of good animal welfare and to discuss and plan the provision of basic facilities. Fortunately the brick kiln owner, Malik Safdar, was keen to be involved in making postive changes.
He provided 4,860 square feet of land solely for the working horses and donkeys to rest and drink, as well as construction materials to build stables with feeding and water troughs.
Community effort
Members of the brick kiln community supplied labour to help build them, and even provided the construction workers with food and drink.
Overall, the community made an extraordinary effort improve the welfare of their animals, taking ownership of the stables and responsibility for future upkeep and repair. They also resolved to practice the advice that Brooke had shared with them about stable management and cleanliness to keep their animals healthy.
They have since reported a big decrease in health problems such as heat stress and exhaustion, and have seen improvements in their animals' health.
These changes, and their impact, have encouraged the Brooke team to help more equine owning communities work together to make postive, lasting changes to the lives of their equines.