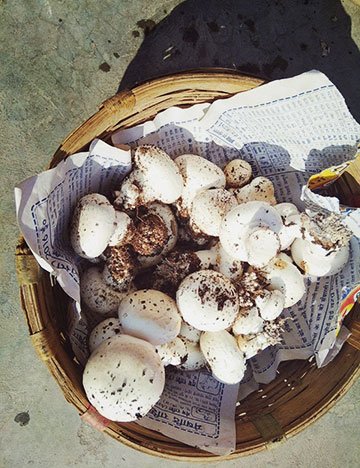 In 2017 Brooke India received a grant of £4,880 from the Brooke Innovation Fund for a six-month project to reduce horse dung piles in the local area and improve hygiene in equine sheds.
The project worked with 20 families to set up mushroom cultivation units. It received the support of Shere Kashmir University of Agricultural Science and Technology and the Directorate of Mushroom Research and University of Jammu.
The project also worked with women equine owners to support them in creating an arrangement with the local market for an organised sale of the mushrooms.
Unfortunately, a delay in starting the project meant the full mushroom production cycle wasn't completed, so growth was limited and yielded 50% less that expected.
The project found that whilst donkey dung is a suitable fertiliser for mushroom production, its success is dependent on the location because it requires ambient temperature for growth and a significant amount of dung for use as a fertiliser.
Owners trained during this project have committed to continuing this activity next season and, whilst certain conditions are required, there is potential for scale-up of this project.
The innovation fund is currently closed, but you can still find out more.