Brick Kilns: A Hidden Industry
Brooke tackles its grim impact on donkeys, horses and the environment.
We'll help 75,000 more animals
We've identified 3,000 new brick kilns in Pakistan where our work will have the biggest impact on the welfare of working donkeys, horses and mules.
Our 5-year plan
Selecting the new brick kilns was a careful process. It also showed us the long-term impact of our work.
Animal owners we train move to nearby brick kilns, passing on what they've learnt to other animal owners. Thus improving horse and donkey welfare in the locality.
Extreme working environment
Donkeys, horses and mules work in traditional brick kilns in India, Nepal, Afghistan and Pakistan. It's a hidden industry, often unorganised and unregulated. Animals and humans endure harsh working conditions.
In brick kilns, the animals transport handmade bricks. Everyday they carry tonnes of bricks for use in the construction industry. These animals suffer from poor nutrition and other serious health and welfare issues. As well as extreme working environments, poor husbandry and management. Acute heat, no shade, water or rest, as well as overloading lead to disease and injuries.
Healthcare is scarce. Labour abuses are commonplace, including low wages, child labour and bonded labour. Brick kilns pollute the air and water, causing infection and respiratory diseases in animals and humans.
The brick kiln industry in South Asia is vast. There are approximately 152,700 active kilns across the region. The kilns produce 21% of the world's bricks, employing over 16 million people and 500,000 animals (Dirty Stack, High Stakes, World Bank 2020). It is one of the most challenging work environments for people and animals, which is why it is referred to as an exploitative industry (alongside coal mines).
Healthy animals means healthy communities
Our Approach in Brick Kilns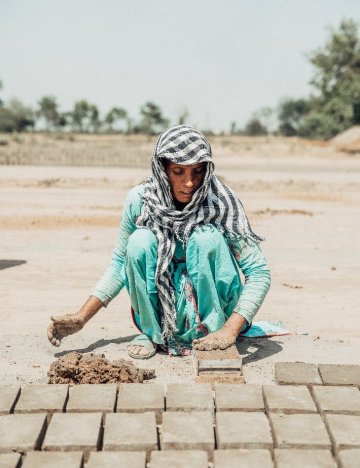 Brick kilns take a heavy toll on their animal and human workforce as well as damaging the environment. To address the complex challenges, Brooke has adopted a 'One Health' approach.
One Health is a concept that recognises the links between human, animal and environmental health, and how each impact the others, both positively and negatively.
This approach aims to address the impact of brick kilns across all three areas.
Reducing carbon emissions
Working with our partner ICIMOD we introduced a 'Green Kilns' initiative. Tackling harmful kiln emissions with new 'clean air' technology.
A zigzag kiln that controls the air and burns fuel more efficient reduced coal consumption by 20%. It also lowered levels of pollutants.
In Badaun, Uttah Pradesh, India one kiln reported that twice as many of the bricks (90%) it now produces are 'A' grade (stronger and less porous) - a win for the environment, people and animals (DAWN, 2020).
Another example is in Pakistan. Brooke works with the government and Brick Kiln Association to plant trees at kilns to address pollution and land degradation. The trees produce fruit and shade for the working animals and their owners, and reduce the kiln's carbon footprint.
Improving Welfare Through Partnerships
In 2018, Brooke formed a coalition with the Donkey Sanctuary, World Wildlife Fund (WWF), the International Labour Organisation (ILO), the South Asia Initiative to End Violence Against Children (SAIEVAC), the International Centre for Integrated Mountain Development (ICIMOD), ActionAid Nepal, International Union For Conservation of Nature (IUCN) and Global Fairness Initiative to improve the welfare of humans and animals working in the kilns, and to minimise carbon emissions of the brick kiln industry.
We jointly advocate for changes in kilns to protect people, animals and the environment. We support the implementation of the OIE standards for working equids; we share technical expertise and work with governments to strengthen animal health and welfare laws.
Supporting Animals and Communities
Brooke works through partners and local staff in Pakistan, India, Nepal and Afghanistan to make lasting improvements to animals, people and the environment.
We train farriers and saddle makers to ensure that animals receive the best care and equipment possible. Not only does this improve animal welfare, but also provides skills and a source of income to the people we train.
We also work with dedicated community engagement teams that link equine owners with external human labour organisations to support access to social security and insurance, minimum wages and government welfare schemes.  
We train local vets to help them treat animals in the kilns, educate owners on preventative measures and build capacity for proper animal management. This model ensures that brick kiln communities have a local, well-trained vet who understands the context and can pass on their knowledge through community visits and workshops.
Number of brick kilns we work in
What's it like in a brick kiln?
Take a 360° tour with brick kiln workers Waqas and Tayyba, and their horse Raju.
To explore the 360° video, just use your cursor to shift the camera's view left, right, up and down. For the best results, click the YouTube settings icon (it looks like a gear wheel) and select the highest HD setting.  
Tayyba and Waqas (pictured with their baby) love their horse Raju.
In the hot and dusty environment of a brick kiln they give Raju the best care they can.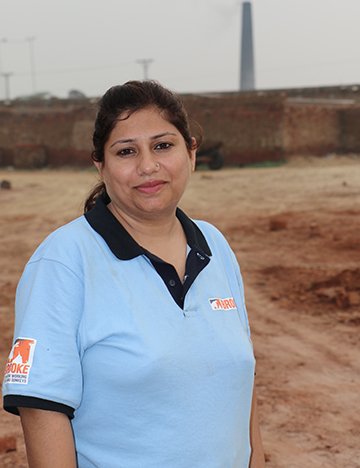 Brooke vet officer Dr Sabira Nazir explains: 
"It is very dangerous at a brick kiln. It's important Brooke keeps working with these animals and their owners, to ensure the health of these animals can get better."
Brooke build's a safety net made of trained vets like Dr Sabira Nazir to protect working horses, donkeys and mules from injury, pain and disease.
Further Reading