United Nations recognises role of working animals in food security
Contributions of working livestock to food security and nutrition has been officially recognised by the UN in livestock recommendations formally endorsed by the Committee on World Food Security (CFS) on Monday 17 October 2016 in Rome.
Until now, the definition of livestock in UN food security policies has only included animals that produce food directly, like cows and sheep. However, in a huge milestone for Brooke's advocacy work, the draught power that working animals provide in producing and distributing food is now also formally acknowledged in the CFS definition of Livestock.
Horses, donkeys and mules benefit poorer people and smallholders by enabling and facilitating food production indirectly. They help their owners earn the income used to purchase food for their families, as well as transporting food from market to the homestead. They are also used for ploughing, sowing and tilling the fields where food is grown, and transporting the feed and water needed for food production livestock.
This decision by UN member states is a significant step for working livestock in the UN food security agenda. It also adds huge strength to Brooke's work with national governments to ensure the inclusion of horses, donkeys and mules in their livestock policies and legislation.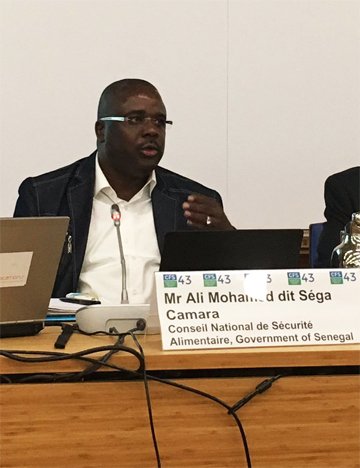 Speaking at the CFS43 Annual Plenary Mr Ali Camara, the Executive Secretary of Senegal's National Food Security Council, made an impassioned statement about the importance of working animals to the livelihoods of African communities. After the recommendations were endorsed he said:
"It's been long recognised that food producing livestock help people to improve their lives and put food on the table, but these beasts of burden, the animals that carry produce and work the land, have been ignored. They need special consideration, so I am delighted to see the CFS giving them the recognition they deserve.
"I was also proud to speak alongside Brooke at a CFS side event on how we can improve the health and wellbeing of these animals, as well as the people who rely on them." 
Brooke joined representatives from the governments of Senegal and Kenya, the Food and Agriculture Organisation of the UN, and the University of Winchester, for a side event discussing the role of livestock in sustainable agriculture.
Petra Ingram, Chief Executive for Brooke said:
"This achievement is a result of months of negotiations and I'm incredibly proud of the tenacity of our team in getting us to this point.
"Brooke's next challenge is to take this UN endorsement to national governments and help them adapt their livestock policies to include equine welfare."
See also
Hundreds of millions of men and women all over the world use working livestock such as horses, donkeys and mules to secure their livelihood and feed their families. We know that animals can feed people even when they do not directly produce food.
Report from the side event at the UN Committee on World Food Security summit on Tuesday 18th of October 2016.
Support our advocacy work