World Vet Day 2020 – invest in vets to prevent another pandemic
Around the world, a lack of vets and other animal health workers is leading to the deaths of countless animals and the increased risk of diseases that transmit from animals to humans. To mark World Vet Day 2020 on 25 April, Brooke is calling for a worldwide investment in vets and animal health workers.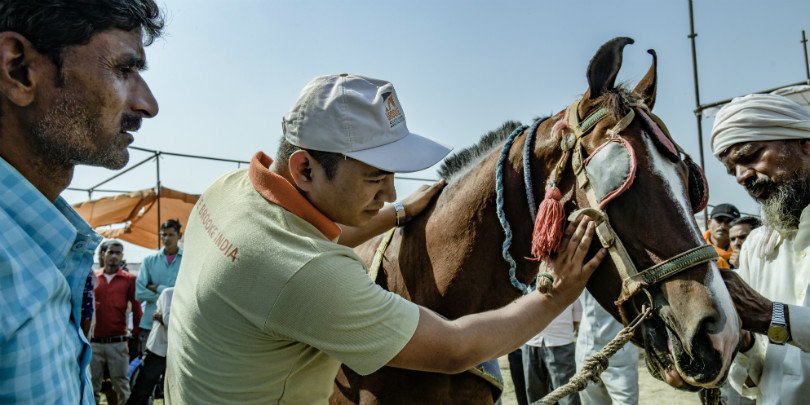 The Covid-19 pandemic, thought to have originated from animals, has demonstrated the consequences of not properly tackling zoonotic diseases – those that can be transferred between humans and animals.  Already, 61% of all human infections come from animals, and 75% of emerging infections have transferred from animals. Vets and Animal health workers have a vital role in identifying and preventing the spread of disease.
In many low-income countries that Brooke works in across Africa, Asia, and Latin America, large numbers of livestock and humans share living spaces, increasing the risk of disease spreading, but animal health systems, which vets and animal health workers are a part of, have frequently been chronically under-resourced
Veterinarians and other animal health workers are a critical part of global health. It's so important for governments to invest in training vets and also veterinary paraprofessionals to international standards. These paravets work on the frontline of animal health, providing care and advice often in rural and very remote

This is also just one piece of the puzzle – governments need to provide a core list of essential veterinary medicines and vaccines at all times to these people for their role in both treating animals and protecting people. They also need to ensure laboratories and veterinary public health institutions have the funding, staff, facilities and equipment so that surveillance for infectious disease is improved.
Brooke has first-hand knowledge of the close living and working relationship between horses, donkeys and the people who rely on them for food production, water harvesting, and the transportation of essential goods. Brooke teams work holistically to strengthen the animal health systems that these communities and animal health workers depend upon. To learn more about our work on animal health systems and how we're working to support a global action plan, click here.