Four women working in global animal health
Today we celebrate the women behind the statistics who are breaking down barriers and improving animal welfare. Brooke trains and mentors existing local vets, paravets and farriers within a community to ensure that animal owners have constant access to quality treatments and advice that will remain even when Brooke may not be in the area.
Amy, a paravet in Senegal
Amy shares her experience of working with Brooke as part of the Animal Health Mentoring Programme:
"I have been a paravet for one year and two months so far. I attended a Brooke training programme that consisted of four separate sessions. Each training session is four days long. I saw this as a great opportunity to work with the animals I love and also learn a profession. I am very proud and I want to continue learning this profession."
Preeti, a veterinary assistant in India
Preeti works in Bareilly, India as a veterinary assistant and explains that as a woman she faced some challenges when she first started working in different communities: "When you are entering a new community, before meeting the women, you have to interact with their husbands and get permission to speak with them. But of course when a woman calls a man the wife can sometimes get suspicious, so that was an initial problem I had to overcome."  Now Preeti is warmly welcomed into the communities she visits. She runs women's meetings on equine diseases and good welfare practices, using posters and activities to help share knowledge.
Fatou, Senegal's first certified female farrier
Fatou credits Brooke's farriery training with changing her life. She said: "For me, there is no work exclusive to men or women. You have to believe in yourself 100%, know where you come from, where you work and its usefulness. Before this farriery training here at the stud farm, I worked in metal carpentry for 3 years. At first, it was difficult. But with time and learning,I came to see it wasn't that difficult. Now I can lift the foot of a horse, and work properly without any help, especially when it comes to shoeing. The training has been very useful to me. What really gives me contentment are the horses form my neighbourhood that are brought to my house for trimming and the owners go back satisfied."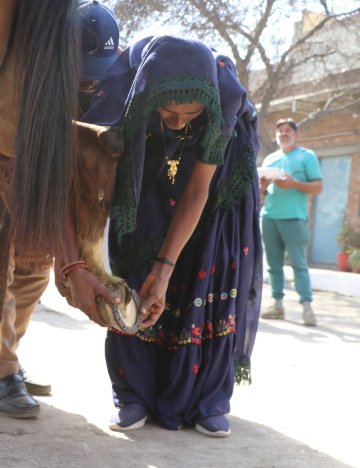 Moomal, Pakistan's first female farrier
Moomal recently travelled 800 miles with her husband and son to attend Brooke's Global Farriery Project training in Lahore. 
She shares, "Most of the handling of the donkeys is done by women, so I used to take care of the donkeys from childhood and then gradually started to cut the hooves. Nobody taught me the hoof trimming of donkeys, I did learn on my own." Talking about Brooke's farrier training, she notes "I am here to learn. I am here to learn about how to perform my job better, how to lift the foot properly, how to put a shoe on an animal, what to look for, and what not to do, I think it's the BEST ever learning. I am very happy and now I am able to train many women."