Covid-19 update: care for working animals has continued, despite the pandemic
Covid-19 is putting untold pressure on working horses, donkeys and mules, and the communities that depend on them. We've achieved so much together already, but the lives of working animals are still at risk.
In fact, these hardworking animals are needed more than ever, whether they're keeping families stocked up with food or transporting people to hospitals – and they need to continue getting the care they deserve. 
Brooke teams have had to adapt and provide some assistance remotely but our top priority throughout this has been to ensure that working animals get the support they need. And because our goal is always to improve the skills and knowledge of owners and local health providers, even when we can't be on hand we know animals will continue to receive the care they need.
Here are just a few examples of the amazing work you've helped to make possible during these exceptionally testing times.
Making masks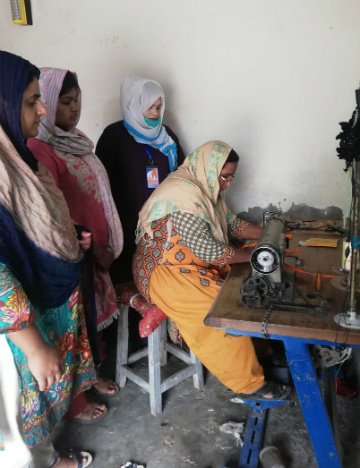 It's essential that owners of working horses, donkeys and mules keep working if they can. If families can't support themselves, there is a very real risk that their animals will suffer. Together, we're working tirelessly to prevent this. In Faisalabad, Pakistan, we provided 500 free masks (in Brooke orange) to brick kiln workers so they could continue working. The masks were made by women who had learnt to sew as part of a Brooke initiative last year aimed at helping families to earn a living. 
Emergency resources
Unfortunately, many countries have had to impose periods of lockdown, which has made it impossible for owners of working horses, donkeys and mules to work. Brooke India mobilised partner organisations and successfully appealed to the government to make sure the owners of working animals were able to feed their families and animals. Whilst in Pakistan, we reached out to local organisation E Med to provide ration bags for brick kiln families in desperate need.
"Brooke always supports us to look after our animals and we are happy that Brooke is also concerned about us." – Amir, Pakistan
Food security and safety
Ensuring there is enough food for people and for working horses, donkeys and mules alike is an ongoing challenge in parts of West Africa. With the pandemic closing markets and disrupting work and travel, we've been helping communities access seeds, so they can grow fodder and crops to keep the whole family well fed, including their animals! In Senegal, your support has also helped create a TV ad to help cart drivers understand social distancing and how to improve hygiene - helping to stop the spread of the virus and keep entire communities safer.
Veterinary care
Thanks to you, Brooke is on hand to help working horses, donkeys and mules in desperate need of medical care too. Vadadora, India, was in lockdown when Niranjanbhai's horse had an accident that left him in terrible pain and unable to stand. Niranjanbhai couldn't get him to the vet and the vet couldn't travel to him either. However, with special police permission, Dr Kaushal of Brooke India was able to rush to the scene of the emergency and mend the poor horse's fractured leg.
"I would have lost my dearest horse in these dire times if Dr Kaushal had not helped. I am extremely grateful." – Niranjanbhai, India