Climate change poses a threat to One Health
Brooke Pakistan's Naeem Abbas discusses the devastating impact of the recent floods in Pakistan and the threat of climate change to the health of humans, animals, and the environment.
Pakistan is currently in the midst of crisis. Heavy monsoon rains have affected 116 out of 154 (75%) districts across the country, over 1500 lives have been lost and more than 33 million people have been affected.
But the flooding has not only impacted the human population. More than one million livestock deaths have been reported to date, including cattle, buffalo, goats, sheep, and donkeys. The animals that have survived with their owners are on roadsides and relocating to other places, but their misery is not over yet; flood water has occupied all agricultural lands, where feed and fodder are destroyed or are not in a condition to provide to the livestock.
The health of humans, animals and the environment is connected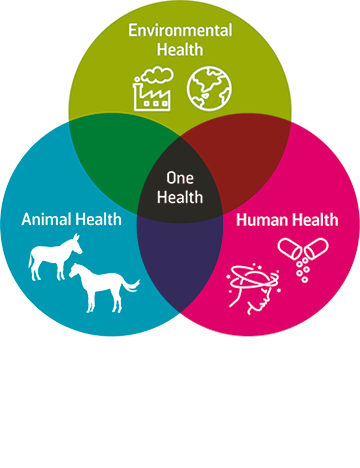 We know that extreme weather events such as this can be linked to climate change. Increasing temperatures result in more water vapour that leads to heavy rains. It has been observed that the recent monsoon produced record heavy rainfall in a short period, causing a greater amount of water in rivers all of a sudden. This crisis has shown the One Health approach in action; the health of humans, animals and the environment is intrinsically linked. If the health of one of the three is impacted, the others will be compromised too.
The current situation in Pakistan has left both humans and animals vulnerable to disease. The floods have destroyed health facilities and water is polluted with sewage, manure, and dead animals. Limited access to safe drinking water has triggered water-borne diseases such as typhoid, diarrhoea, and cholera. Such diseases cause thousands of people to become ill on a daily basis.
Lifesaving support is needed
This is the time to provide urgent lifesaving support to local flood-affected communities. We need to advance to reduce the short and medium-term impact on torrent hit areas. People are in great need of shelter, clean drinking water, baby food, basic household food items, cooked and dry food, medicines, doctors, blankets, kitchenware, hygiene kits, and tarpaulins.
After losing everything, one thing rural communities now have is their remaining livestock. This is their only source of livelihood and we need to help them save this asset. This is the right time for the state, donor agencies and civil society organisations to step forward and provide feed and fodder, drinking water, veterinary care, and tarpaulin sheets to shelter and protect animals from further rain and extreme weather conditions.
The crisis in Pakistan has shown the threat that climate change poses to the health of people, animals and the environment. It is crucial that governments recognise the One Health approach within the sustainable development and climate change agenda.